Events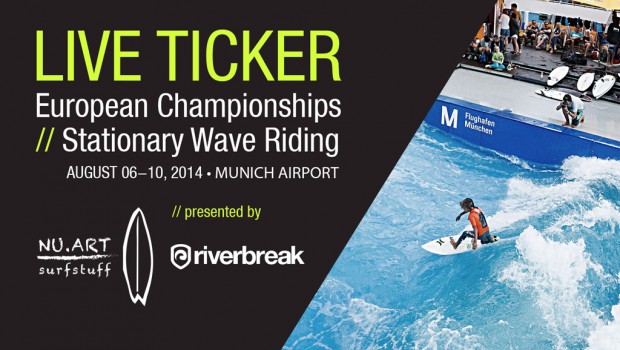 Published on August 7th, 2014 | by RB Team
0
Live Ticker – European Championships in Stationary Wave Riding 2014
This weekend the river surfing elite competes in Munich at the 4th European Championship in Stationary Wave Riding. Riverbreak teamed up with NU.ART surfstuff  and Surf Anywhere to bring you the freshest news, results, heats and stories — Don't miss out on this unique spectacle!
We'll be updating this page constantly, so just check back here. For the German version of the ticker, see NU.ART surfstuff's Twitter Profile. Thanks to Max and Jacob who are on the grounds, taking part in the competition and making this ticker possible.
---
LATEST UPDATE Thursday / 7 August / 22:00pm
Qualifying Heats
Here ist the list of all surfers and heats for the qualifying rounds on Friday. Like last year, there are three divisions "Men", "Women" and "Masters".
Qualifying MEN
Round 1
| | | | | | |
| --- | --- | --- | --- | --- | --- |
|   | Heat 1 | Name | Country | Pts. | Place |
| Or | 6 | Remy Dayrem | France | | |
| Wh | 11 | Leo Geh | Germany | | |
| Ye | 22 | Florian Kutschera | Austria | | |
| Gr | 27 | Arnado Mercado | Dominican Republic | | |
| Pk |  38 | Jonas Rosenbauer | Germany | | |
| Bl |  43 | Benni Schumann | Germany | | |
|   | Heat 2 | Name | Country | Pts. | Place |
| Or | 3 | David Bitterlich | Germany | | |
| Wh | 14 | Lukas Haigermoser | Austria | | |
| Ye | 19 | Dan Krejci | Australia | | |
| Gr | 30 | Marian Nemec | Slovakia | | |
| Pk | 35 | Matthias Reiff | Germany | | |
| Bl | 46 | Patrick Toledo | Brazil / Germany | | |
|   | Heat 3 | Name | Country | Pts. | Place |
| Or | 7 | Daniel Dingerkus | Germany | | |
| Wh | 10 | Thomas Felber | Austria | | |
| Ye | 23 | Maximilian Landauer | Germany | | |
| Gr | 26 | Jannis Meng | Germany | | |
| Pk |  39 | Valentin Ruiz | Spain | | |
| Bl |  42 | Dimitri Scholl | Switzerland | | |
|   | Heat 4 | Name | Country | Pts. | Place |
| Or | 2 | Sergio Bartrina | Spain | | |
| Wh | 15 | Toby Haseloff | Germany | | |
| Ye | 18 | Christian Kopetzky | Austria | | |
| Gr | 31 | Maximilian Neuböck | Austria | | |
| Pk | 34 | Jacob Quinlan | Canada | | |
| Bl | 47 | Leon von Wagenhoff | Germany | | |
|   | Heat 5 | Name | Country | Pts. | Place |
| Or | 1 | Gerwin Andreas | Austria | | |
| Wh | 16 | Thomas Heideyer | France | | |
| Ye | 17 | Daniel Jung | Germany | | |
| Gr | 32 | Lukas Oester | Switzerland | | |
| Pk | 33 | Vlado Petr | Slovakia | | |
| Bl | 48 | Vincent Waldek | Austria | | |
|   | Heat 6 | Name | Country | Pts. | Place |
| Or | 8 | Simon Dingerkus | Germany | | |
| Wh | 9 | Christian Egetemeyr | Germany | | |
| Ye | 24 | Björn Lob | Germany | | |
| Gr | 25 | Florian Mangold | Germany | | |
| Pk | 40 |  Erik Sajda | Slovakia | | |
| Bl | 41 |  Jan Schenk | Switzerland | | |
|   | Heat 7 | Name | Country | Pts. | Place |
| Or | 4 | Manuel Burger | Austria | | |
| Wh | 13 | Fabian Flach | Germany | | |
| Ye | 20 | Manuel Kronfeldner | Germany | | |
| Gr | 29 | Dirk Müller | Germany | | |
| Pk |  36 | Jürgen Reißing | Germany | | |
| Bl |  45 | Oliver Thienel | Germany | | |
|   | Heat 8 | Name | Country | Pts. | Place |
| Or | 5 | Chris Collard | Switzerland / Germany | | |
| Wh | 12 | Ferdinand Fleissner | Germany | | |
| Ye | 21 | Connor Walsh | Scotland | | |
| Gr | 28 | Chris Mimler | Austria | | |
| Pk |  37 | Jacques Robert | Switzerland | | |
| Bl |  44 | Chris Seidl | Austria | | |
|   | Heat 9 | Name | Country | Pts. | Place |
| Or | 49 | Flori Kummer | Germany | | |
| Wh | 50 | Dominik Wienecke | Germany | | |
| Ye | 51 | Max Ziervogel | Germany | | |
| Gr | 52 | Patrick Vogl | Germany | | |
| Pk |  53 | James Lovett | Mexico | | |
| Bl |  54 | | | | |
Qualifying WOMEN
Round 1
| | | | | | |
| --- | --- | --- | --- | --- | --- |
|   | Heat 1 | Name | Country | Pts. | Place |
| Or | 1 | Nina Tamara Gernuß | Germany / Hawaii | | |
| Wh | 3 | Michaela Kancevova | Slovakia | | |
| Ye | 5 | Christina Minimayr | Austria | | |
| Gr | 7 | Petra Offermanns | Germany | | |
| Pk |  9 | Magdalena Ramsauer | Austria | | |
| Bl | 11 | Antonia Schwaiger | Germany | | |
|   | Heat 2 | Name | Country | Pts. | Place |
| Or | 2 | Lisa Jankowsky | Germany | | |
| Wh | 4 | Kira Maiwald | Germany | | |
| Ye | 6 | Katharina Nachtigall | Germany | | |
| Gr | 8 | Melanie Pahnke | Germany | | |
| Pk | 10 | Marlene Schmidt | Switzerland | | |
| Bl | 12 | Natascha Teske | Germany | | |
Qualifying MASTERS
Round 1
| | | | | | |
| --- | --- | --- | --- | --- | --- |
|   | Heat 1 | Name | Country | Pts. | Place |
| Or | 1 | René Bellack | Germany / Hawaii | | |
| Wh | 3 | Heinz Friedli | Slovakia | | |
| Ye | 5 | Andreas Lammerer | Austria | | |
| Gr | 7 | Ralf Oberpaur | Germany | | |
| Pk |  9 | Alex Schwab | Austria | | |
| Bl |  11 | Bozo Wecke | Germany | | |
|   | Heat 2 | Name | Country | Pts. | Place |
| Or | 2 | Andy Bode | Germany | | |
| Wh | 4 | Daniel Gagliardi Paez | Germany | | |
| Ye | 6 | Mike Lingenfelser | Germany | | |
| Gr | 8 | Christian Pellkofer | Germany | | |
| Pk | 10 | Hermann Seideler | Switzerland | | |
| Bl | 12 | Bernhard Weger | Germany | | |
| NL | 13 | Hermann Winkler | Austria | | |
---
UPDATE Thursday / 7 August / 21:00pm
Timetable
Monday, 4 August 2014
18:45 – 21:00 Free training
Tuesday, 5 August 2014
18:45 – 21:00 Free training
Wednesday, 6 August 2014
18:45 – 21:00 Free training
20:00 Live Ticker starts
Thursday, 7 August 2014
09:00 – 19:00 Free training
19:00 – 21:00 Extra training for all non-german surfers
Friday, 8 August 2014
08:30 – 10:00 Open Surf Masters, Women
10:00 – 11:00 Qualifying Open Masters
11:00 – 12:00 Qualifying Open Women
12:00 – 13:00 Open Surf Men
13:00 – 16:00 Qualifying Open Men
16:00 – 21:00 Training for all qulified participants
Saturday, 9 August 2014
07:30 – 07:50 Open Surf Groms
07:50 – 09:50 Qualifying Groms
09:50 – 10:10 Open Surf Masters
10:10 – 12:10 Qualifying Masters
12:10 – 12:30 Open Surf Women
12:30 – 14:30 Qualifying Women
14:30 – 15:30 Open Surf Men
15:30 – 19:15 Qualifying Men
19:15 – 23:00 Riders Party and Open Surf
20:00 – 21:00 Training for all placed riders
Sunday, 10 August 2014
07:30 – 08:30 Open Surf Men
08:30 – 09:45 Quarter Finals Men
09:45 – 11:15 Open Semi Finalist
11:15 – 11:45 Semi Finals Groms
11:45 – 12:15 Semi Finals Masters
12:15 – 12:45 Semi Finals Women
12:45 – 13:15 Semi Finals Men
13:15 – 14:15 Open Surf Finalists
14:15 – 14:45 Finals Groms
14:45 – 15:15 Finals Masters
15:15 – 15:45 Finals Women
15:45 – 16:00 Finals Men
16:00 – 16:30 Checking the results
16:30 – Price award ceremony
---
UPDATE Thursday / 7 August / 20:00pm
Important Links
Sign up: http://citywave.de/4-europameisterschaft-im-stationary-wave-riding/anmeldung/
Official Site: http://citywave.de/4-europameisterschaft-im-stationary-wave-riding/
Up-to-date infos, pics, vids, results and summaries: http://riverbreak.com
Minute-by-minute Ticker: https://twitter.com/NUARTsurfstuff
Videos: https://vimeo.com/nuartsurfstuff