Stories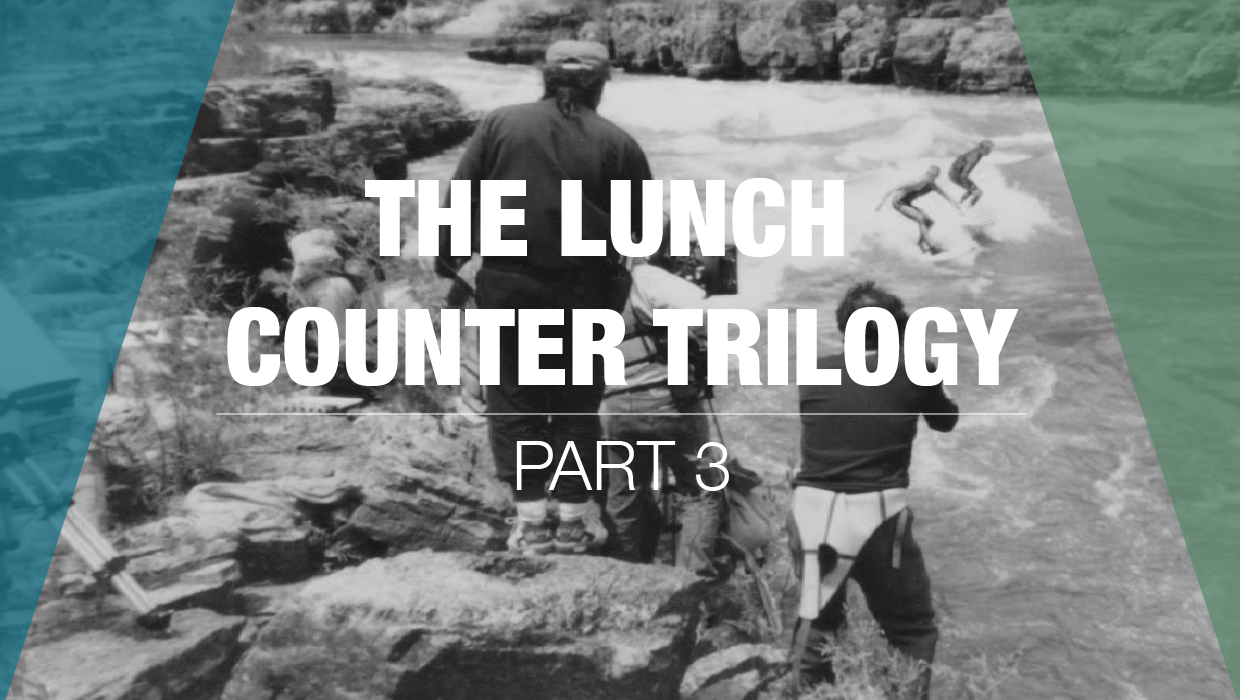 Published on July 17th, 2016 | by RB Team
Photo by DP & Seal | 
0
The Lunch Counter Trilogy, Part 3: The World's Eyes on River Surfing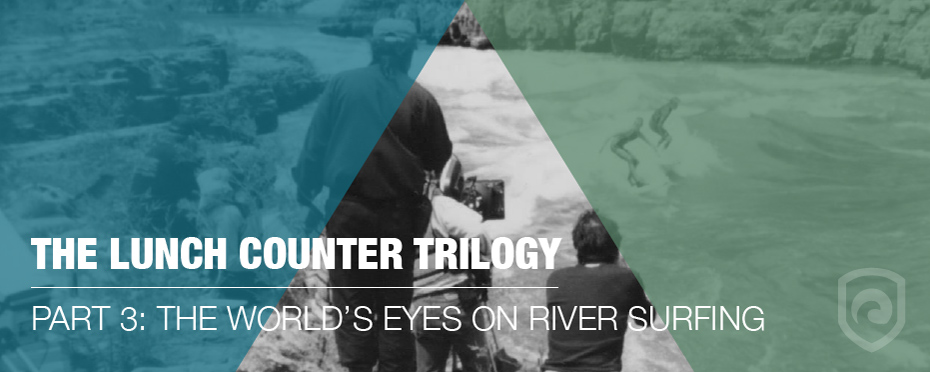 This is the final of three parts of the Lunch Counter Trilogy — a fascinating story for river surfers old and young. Join us on our journey back to the early days of river surfing with Don Piburn and Seal Morgan, two river surfing pioneers at Lunch Counter Wave in Wyoming. Follow DP's and Seal's conversation on how river surfing was the cure for the fear of a young girl, the risk of leashes, near-drowning incidents, gnarly hold downs, TV auditions and the day when the world's eyes were on river surfing.

Don Piburn
"Determined to have my friend's back in whatever the hell was going on, I leapt into the current intent on doing what ocean surfers call a "duck dive" under the primary wave. That didn't work and I found myself hung up in the wave hydraulic for a long moment or two. When I got loose and crested the secondary wave, I could see Seal pushing the surfboard with one hand toward the guy now floating toward the flat water section the rapid empties into well downstream. Seal clearly had everything under control, so I punched the eddy line and climbed back out of the river.
It turned out that the guy had tried to jump out of the raft and catch the wave, but he had no leash and absolutely no floatation, which river rafters are supposed to wear at all times. Seal told me later that the guy just disappeared below the surface immediately. With no floatation of any kind, he was clearly going to drown. It had almost been a life-ending mistake for this man."

Seal Morgan
"Yeah, the guy was just gone. He had no idea what he was getting into and was hauled down the instant he hit the water. By the time I got to him, he had been pulled under numerous times. He was dragged through the surf wave washing machine, the secondary wave eddy line, and then pummeled underwater through the churning rapid section directly below that. He managed to get to the surface a couple of times for air – barely. Once he was out of the rapids he surfaced, but he was done. He wasn't swimming; he was just trying to float on the surface and was puking up water at the same time. If he stayed where he was, all he had to look forward to was being dragged into the next set of rapids around the bend downriver. There weren't any kayakers close enough to get to him. He was too tired to swim much less paddle, so I had him grab my leash and I ferried him sideways across the current into slack water where the raft he had jumped off in the first place had pulled out. His people were very happy to see him."

Don Piburn
"My grasp of the kid's circumstances following that wipeout ended up saving my life. Well, Seal saved my life. Only weeks later, I too found myself separated from my surfboard after the ankle attachment on my surf leash failed. We are aware of current discussions here on the Riverbreak website detailing the dangers of leg ropes in wild rivers and we support that new knowledge, but that hadn't been our experience up to that point. Life vests back then were very bulky and absolutely interfered with a surfer's ability to remain stable on our boards while we paddled. The ability to paddle was critical to a surfer's control and safety on the water, so we relied on our surfboard leashes."

Seal Morgan
"It's obvious that we aren't wearing vests in any of our still photos or video clips."







Don Piburn
"I am a very strong swimmer, and every year for several months leading up to the river surfing season, I would swim laps to train for the hazards of the river. I swam 1,000 to 1,200 yards every weekday before lunch in our University swimming pool. That fact made absolutely no difference whatsoever the very instant my leash detached and I went one way while my surfboard went another. Without floatation I was completely at the mercy of flood stage currents that were vastly stronger than me at my very best. The currents seemed intent on dragging my sorry ass down for good. After struggling for what seemed like a very long time, but probably wasn't that long at all, I ran out of the energy necessary to fight it. At that moment I looked up and saw Seal coming downstream pushing my board with one hand toward me. By then I was completely exhausted and my only thought was to fight to stay afloat until he gets here, and live."

Seal Morgan
"DP was on his high school swim team and had surfed for decades, but that river would not float him after his leash let go. We both were always ready to go in after one another. For at least 50% of the time early in the season, the two of us were liable to be the only ones anywhere in or near the water. Wetsuits were always zipped up, leashes were always on, and eyes were continuously scanning for hazards. Watching each other's back was mandatory.
It was bigger water when DP went down than when the rafter kid lost his board those few weeks earlier. This was medium to big water, and I saw him go under and the board spit out the back of the wave with the leash flapping in the wind. He got pulled down three times and came up three times, before I got his board to him downstream. Sucked down and held down hand-in-the-air kind of sucked down. Gnarly, was the only word for it. My only thought quite honestly, was "Oh Sh&@!" as I leapt off the rock when he didn't come up. From the previous incident, we had learned that the person in the water typically gets pushed downstream faster than the board floating and bouncing across the surface, so I went after the board while trying to keep him in sight. A 5'10″ short-board paddles lousy with the weight of two fully grown men, so it makes for a terrible rescue platform. Retrieving that second board ensured we could both make it back to shore before being dragged through the next series of rapids downstream. To put it simply, get the board, get to the person, and do it all damn fast. I was glad to be a strong paddler in those days."

Seal Morgan
"Just upriver of Lunch Counter there is one big-ass hole in the middle of the river called the Big Kahuna rapid. There was no wave face on it to speak of back then, so it was mostly a kayaker play spot. We found it really hard to board surf. You paddled backwards until you dropped over the leading ledge and into a hole. It was so weird. You had to get to your feet as quickly as possible, because once you stood up you found yourself chest-deep to the level of the river flowing all around you. Until you got on your feet, you couldn't see what was coming at you from upriver. It was like standing in a big garbage can made out of air surrounded by water."

Don Piburn
"Kahuna would start to break just when the surfing wave on the Counter started to back off. It would suddenly get big, inviting, and it was always easy enough to catch the soup or white water of the wave. But there was almost no wave face to stand and surf on. I appreciate your trash can analogy, as I am only about 5′ 7″ and on Kahuna I just wasn't tall enough to see much of the upstream traffic coming at me. I remember trying to guess roughly how long it would take an upstream raft to reach Kahuna. I would jump in hoping to surf the wave just a little less time than that. More than once I was suddenly looking face on at the bow of a huge raft dropping into the same hole I was standing in. It could get heavy just trying to get the hell out of the way.
Surfing Kahuna is a good example of how we as surfers were continuously ferreting out new waves to surf. The search for new waves is as old as the sport of surfing itself. As a river runner, I would explore for surfer friendly waves any time I floated an unknown section of river. I still kayak a lot in the ocean, but at that time I discovered I could get invited on permitted river trips if I was willing to act as a raft captain. It wasn't a bad gig, really. Everyone wanted to kayak, and I was willing transport the gear, beer, and significant others. The 1992 photo is of one particular float trip deep in Idaho wilderness on the wild and scenic stretch of the Middle Fork of the Salmon River. That is Seal's twinfin closest to the rafts in the black and grey board bag among all the kayaks and river gear. I don't have pictures of the few small waves I tried to surf on that trip, but I have a vivid memory of one particular two meter haystack of unbroken wave face mid-river not far upstream from the Salmon River confluence. It was big water on that trip. One of our kayakers dislocated his shoulder and had to be helicoptered out, and then another kayaker very nearly drowned in a recircular only a quarter mile upstream of the wave I am thinking of. With all that drama playing out, it would not have been an appropriate time to insist that we all pull out and scout, let alone unpack and let me take a crack at surfing it. Rivers change after 24 years, but in my dreams I will always wonder if it's still up there."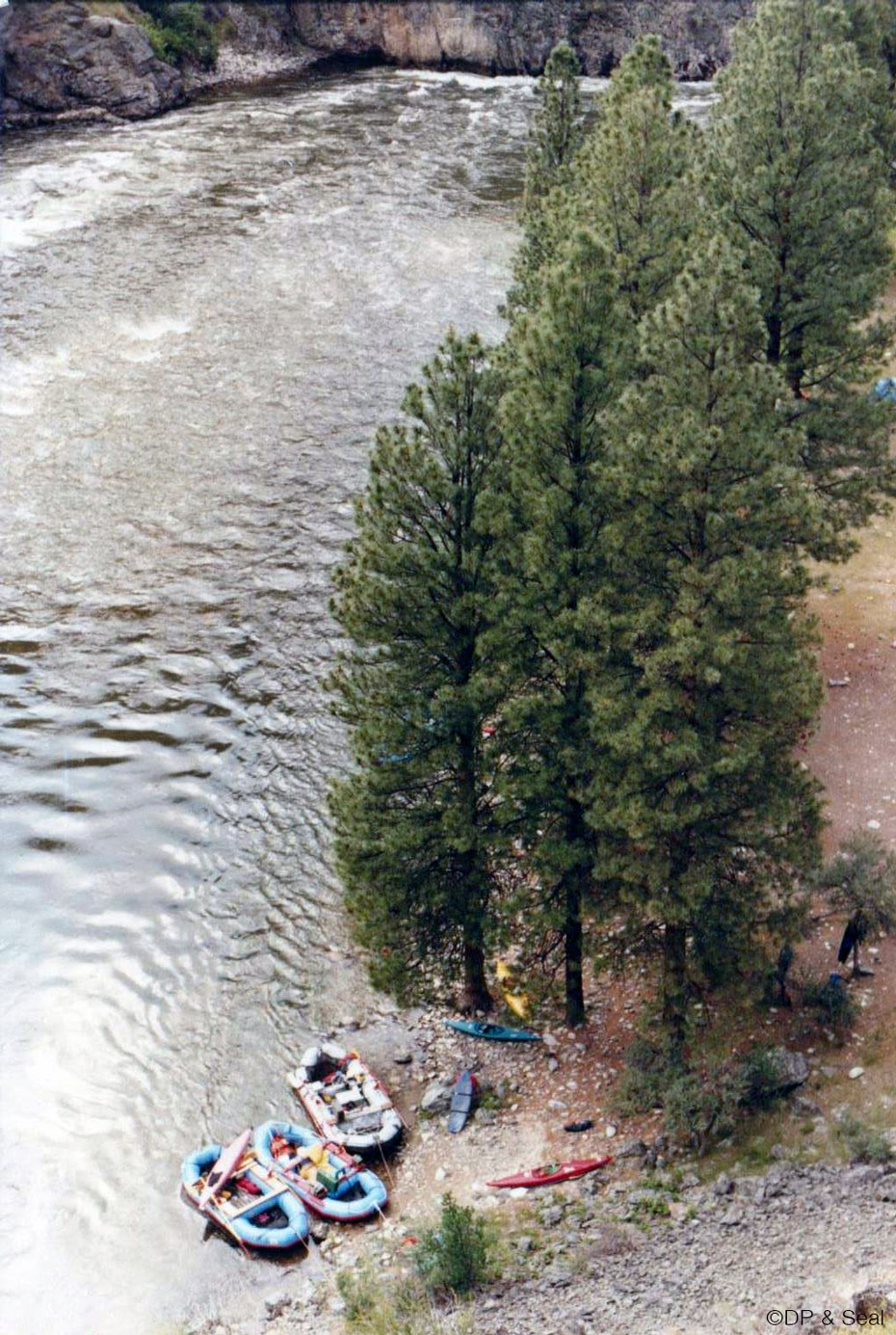 Ferreting out new waves to surf along the Middle Fork of the Salmon River

Seal Morgan
"The couple I mentioned earlier were the only two boogie riders we ever saw there until I took my step-kids into Lunch Counter in early summer 1991. The river had really gone down since DP and I surfed it a couple weeks earlier at max flood, but it was late in the season just before the main summer crowd showed up. It was a small whitewater-line lateral wave that was way too small for a board. The kids had watched DP and I surf it earlier that spring but they never thought that they would! I thought it would be screaming fun for three little kids raised at the beach, so I grabbed the big boogie board from the Jeep and asked 'who's first?" The 8 year old twin JJ was, and we launched with me in my Duckfeet lifeguard swim fins and bracing him against the board underneath while we bashed into it. He immediately wanted to do it again but his lips were too numb to talk. That water was still pretty cold.
His twin sister Nevie was extremely scared due to a near-drowning incident a couple years earlier, an "I can't put my head underwater" kind of fear. She just couldn't bring herself to go into the water so it was Nelle the oldest that went screaming into the wave next. She screamed the whole time. Loudly. In my ear. Too much fun!
After JJ's second run his teeth were chattering so hard his mom wouldn't let him go again. Both kids were almost blue (no wetsuits for them) and trying hard to not shiver but they had gigantic grins on their faces as they bounced around on the rocks on the bank like magpies wrapped in mom's huge beach towels afterwards. They were seriously stoked. Nevie was in a full panic. She wanted to go but was shaking her head so hard that it looked like it hurt, so I scooted into the water alone for one last boogie board run at the dinky little wave and was kicking out towards midstream when the family started yelling for me to come back. Nevie had changed her mind. Yes, then no, then yes the entire time the other two were surfing it. This was her last chance and she knew it. Into the water she came so I kicked us out to mid-river for the final run.
The instant the current grabbed us she changed her mind again and, very calmly, looked over her shoulder and said "Seal I don't want to do this, can we go back now?" Which of course was far too late to do anything about it except get ready to spin around and catch the whitewater. She screamed the whole time with fingernails digging into my wetsuit and poking holes in the boogie board from gripping it so hard. She was so scared and had so much fun that she couldn't help coming out of the water with her face split into the same gigantic grin her siblings were wearing.
Later on that summer I was able to teach her to swim in the big university pool, overhand stroke with head under and everything else, and she passed her swim test to go into the deep end and jump off the diving board. No more kiddie pool for her! Riding the Lunch Counter was the cure for her fear. That Lunch Counter wave helped a bright little girl get over her fear of water in the most fun way imaginable. For me that was a good end to the years I spent there.
DP had one more spring to surf Lunch Counter ahead of him. The dog."
Seal on a Late Afternoon 1990. One of those really, really fun days when you are in the flow, tuned to the rhythm and use every surge, every bump in the water, and it all just comes together. By our third year surfing the 'Counter DP and Seal had really wired the place in all conditions and sizes. Very windy again with a bright afternoon glare but also with wind-splashed wave faces of decent size. Notice Seal's patented 'getting sucked over the back so kick the legs into the air and stick the board's nose back in' re-entry move to keep him from being thrown over the back of the wave. And the three near-figure 8s at the end of the segment.

Don Piburn
"The news spread quickly on the river one Saturday afternoon in 1992. Toyota Corporation was going to film river-surfing at the Lunch Counter rapid for their upcoming Toyota Trucks TV commercial! It looked like something akin to the Mountain Dew commercial was about to repeat itself. Interested river surfers needed to be at Lunch Counter two weeks later for the big audition. I remember reminding the person who shared all this with me that the river was already in decline from flood stage. The wave was well past its yearly peak, and if they didn't film very soon the surfers they selected would be trying to rip on ripples. The audition day came and because we were comparatively few, I recall maybe a half dozen of us or so, it didn't last very long. Their representatives watched each of us surf, took a few pictures, wrote down our contact information, and told us they would be in touch with whoever they selected. Weeks ticked by and river levels continued to drop, and then my phone rang. It was fellow river surfers Mike Morganson and Tony Jovanovic from Jackson, Wyoming calling to let me know that Toyota had chosen the two of them to star in the commercial. Though I was not selected, my consolation was insider information on the day they planned to hold the shoot and an invitation for me to attend as their guest.
I have still pictures and a few stories I will share from that day, but the whole account has to be Mike's and Tony's to tell. There is so much more to that day than just the brief and blurred footage that Toyota used in their commercial. Big media doesn't scrimp, and the array of people, equipment, and amenities that spilled out onto that pristine bank along the Snake River was like nothing before or since. Their small army of personnel included the director, film and still camera people, media consultants, food service workers, seamstress, hairdresser, water safety specialists , "roadie" type laborers (maybe that's "riverie" type laborers), and many more. All those hard working professionals certainly couldn't go hungry, so the buffet table that the caterers set up along that isolated river bank was first rate.
All of the equipment and people were ferried across to the wave side of the river in either a pontoon or McKenzie boat piloted by skilled operators. Kayakers were in place along the downstream eddy lines for safety back up. The river surfers were not allowed to paddle across the river because they might tear all the patches the seamstress had carefully hand sewed onto their wetsuits to cover up any company logos that might be visible. The guys were not to surf until the cameras were rolling because in addition to safety concerns their hair might get wet! The hairdresser was nearly beside himself towel-drying their bushy, bushy blonde hair after each take. There was a lot of down time while they discussed or set up different takes or camera angles, which I used to surf the wave all to myself. Their director and camera guys took advantage of my surfing to frame the image of the surfer and wave that they wanted and to focus their cameras."

Don Piburn
"Later, when they were all briskly shooting take after take and reviewing footage on the riverside portable monitor, I warmed up and rested on the nearby rocks. One of their guys who had been at the auditions mentioned that he thought I should have been chosen, because I was the best technical surfer on the river that day. I don't know that Mike and Tony would have shared his opinion, but one of the photographers overheard him and, leaning in carefully to make sure the director couldn't hear he whispered to me, 'Next time dye your hair blonde.'
The details of that day are well documented in a video that Tony's and Mike's girlfriends took from the riverbank. I have a really poor copy of that video, but Mike and Tony's original needs to be dug up and digitally archived along with copies of the resulting Toyota commercial that aired for the first time that following season during the annual championship World Series of Major League Baseball. As the sport of river surfing continues to gain traction, similar historical footage ought to be ferreted out and digitally preserved before time takes an even greater toll on whatever is left. The video cassette technology from those years is already well past it's chemical shelf life, assuming those who took video actually held onto them this long. How Tony and Mike spent the money that they made from the commercial is a surfers' tale in itself, so I am hoping that one or both of them will surface soon to share their own river surfing story.

Don Piburn
"I came up with the slogan "Surf Wyoming" as a spinoff of a popular "Ski Iowa" tee-shirt from the mid-1980s showing a skier crashing through flatland cornfield rows. To this day you can still find that same tee shirt as vintage clothing on EBay sometimes. The "Surf Wyoming" slogan caught on with the half dozen or so Snake River surfers and became part of our lexicon in the late 1980s and early 1990s. Seal still has a "Surf Wyoming" "Lunch Counter Local" photo tee shirt that I had made for him as a gift back in 1991."

Seal Morgan
"I've got that tee shirt showing a picture of me surfing Lunch Counter with your "Surf Wyoming" logo hanging in my closet."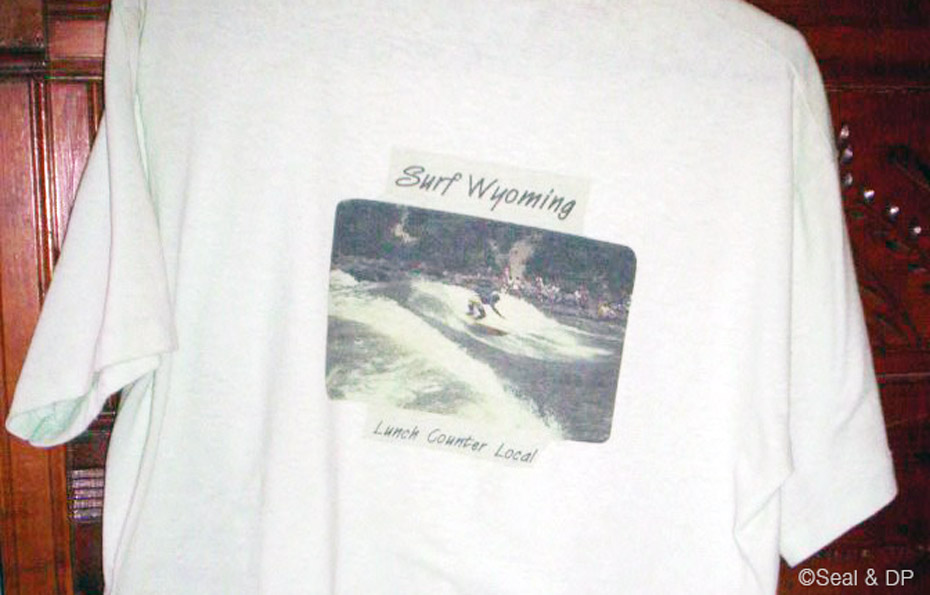 Don Piburn
"The backstory is that after all those years of river surfing I came to realize just how important surfing really was to me, so I moved to Hawai'i in 1993. While watching America's Funniest Home Videos (AFV) on ABC TV one night, Bob Saget, the master of ceremonies at that time put out a request for videos of "strange or unusual sports." River surfing clearly qualified, so I sent a 1992 video clip of me surfing Lunch Counter to the address provided. On the video cassette label I wrote the words, "Surf Wyoming." AFV kindly returned my cassette a short while later with a letter noting no immediate need for it, but that they would hold onto my footage in their video archives.
Four years later in 1998, my home phone in Hawai'i rings, and it's an AFV representative. They selected my river surfing footage, which they had kept all those years, as one of the three $10,000 semi-finalists for an upcoming AFV episode. They offered to fly me from Honolulu to Los Angeles, where I would appear on the show and the studio audience would vote on my clip to see if I would win the $10 K first prize.
Plans were made and flights were arranged, and then just weeks before I was due to depart for the March 11, 1998 taping of my episode (# 922), trailers for the March 27, 1998 release of the latest Disney movie began airing on television. The Disney comedy "Meet the Deedles" was the story of brother "surf dudes" from Hawai'i headed to a boot camp for wayward youth in of all places, Wyoming. The movie trailer (US, other countries) shows the main characters surfing Wyoming river waves, and just prior to their river surfing scene in the movie, one brother turns to the other and says, "Whoa, dude! Surf Wyoming!" The parallel story line, the timing of the movie's release, and my invitation to be on the show all happening at the same time felt surreal.
As far as the AFV experience, it was great fun. They picked me up at the airport in a limousine. The driver took me on an hour long limo-tour of Hollywood before dropping me off for my stay in a rather nice Hollywood hotel. All expenses were paid, including a $50 per diem. Copyrights prevent them from showing my appearance on the show here, but you can watch a copy of my clip which has been graciously provided by the Vin Di Bona Productions/Cara Communications Corporation affiliated with AFV. On the show the AFV host Daisy Fuentes introduced my clip as "Surfs up: River" and made a joke, noting "No he's not lost. This is actually the opening sequence to a new cop show, Denver 5.0". At the end of each show, members of their studio audience review the three finalist's video clips and vote for their favorite. When the camera zoomed in I smiled and flashed an "I love you" hand sign while mouthing those same words and my wife's first name. I didn't win the $10K. My video never really was funny, plus I was competing against puppies, babies, and genuinely hilarious little kids. I came in second place though, which netted me $2 grand in prize money. That's not a bad take in 1998 dollars to go along with a pretty good story, and as Seal and I know well, those who die with the best stories, win."
America's Funniest Home Videos (AFV), 1998. Clip "Surf's Up: River" for episode #922. Air date was scheduled as April 27, 1998.Courtesy of Vin Di Bona Productions/Cara Communications Corporation.
Acknowledgements
A huge thank you to Phil and the Riverbreak Ohana for all their hard work and interest in rescuing this piece of river surfing history. A shout-out to Marie Will and her daughter Myra for committing to years of shivering on cold mornings and sweating on hot afternoons behind the camcorder and still camera at Lunch Counter to document these early river surfing videos and photos. Thank you to Theresa at Masterpiece Memories Video Spokane, Washington, and "Mahalo!" to Chris Walker of Photo and Video Hawai'i for salvaging clips from our deteriorating 25 year-old video cassettes and making them look great.
_______________________
Don Piburn is a surfer, '70s outlaw skateboarder, '80s backhill snowboarder, and late '80s Snake River surfer. He moved to Oah'u in the '90s where he continues a 30+ year career teaching infants, toddlers, and preschoolers with disabilities, surfs north shore, kayaks windward reefs, and takes weekly hikes with his Hawaii born and raised wife, Janice.
Seal Morgan teaches free snowboard lessons at 49′North, Kenpo in home dojo, skates 70s pool riders, wakesurfs old Hyperlites, surfs Olympic Peninsula summers on twinfins, plays mean lead blues harp and congas, and builds custom winter gear for locals in his Selkirk Range of NE Washington State sew shop www.boardwarm.com. No tv since '93, never owned a cell phone, leaving plenty of time to read and think.