Stories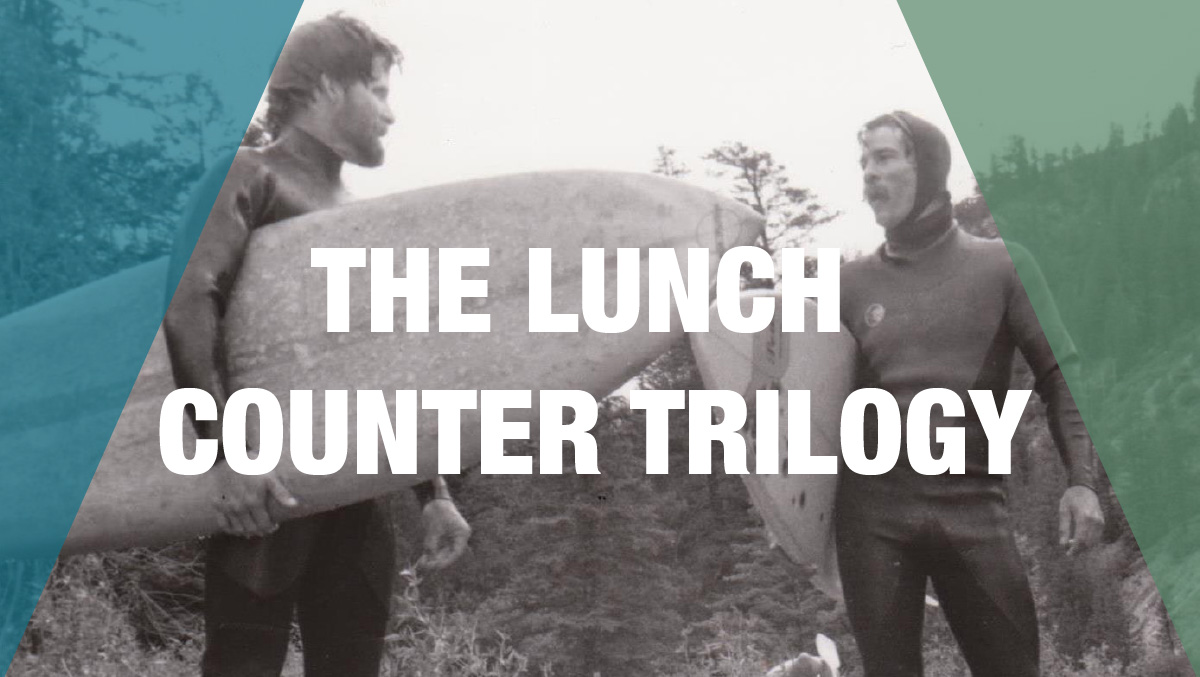 Published on May 25th, 2015 | by PhilB
1
The Lunch Counter Trilogy, Part 1: In The Beginning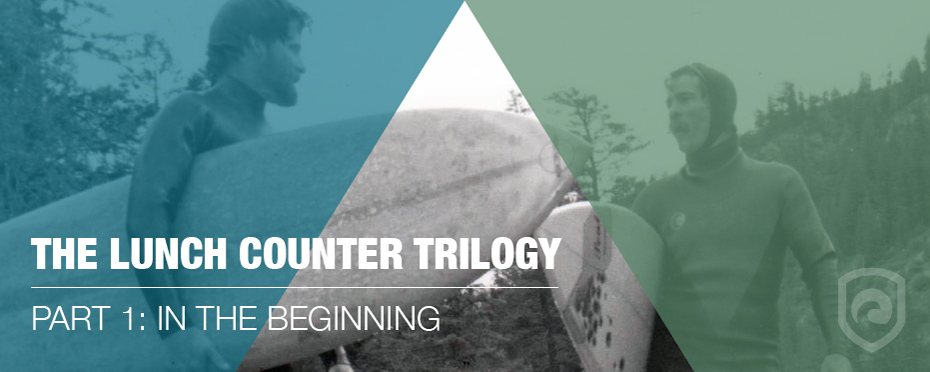 Travel back in time to the early days of river surfing with Don Piburn and Seal Morgan, two of the local pioneers at Lunch Counter Wave in the late '80s and early '90s. Terrible hold downs, TV auditions, campfires, big brown water, women in bikinis, raft collisions, all stirred together in this unique conversational style that you might not have come across before. This is a true tale of true river surfers nostalgically recalling episodes from back in the days. From the early river surfing era in Wyoming to the first international TV exposure of our sport there's something for every river surfer to soak up. Riverbreak is proud to present this first of three parts of the Lunch Counter Trilogy — a story for every generation of river surfers.

Don Piburn
"You and I met surfing the sandbars of Mission Beach, California in the mid-70s while I was still a teenager and you weren't very much older. Our shared passion for surfing and skateboarding in empty swimming pools started a friendship, and then the passion shifted into snowboarding before that sport became popular. I do remember your stories about snowboarding in South Lake Tahoe back in the early 1970's, though. Then we got into something completely new and different, river surfing the Lunch Counter standing wave in Alpine Canyon section of the Snake River in Wyoming. The attitude was always the same, only the medium changed."

Seal Morgan
"We met out in the ocean, and I started patching your surfboards at my ding repair fiberglass shop. Years later you told me that you started shadowing me out in the water because it was my home beach and I always caught the best set waves. We both skateboarded in empty swimming pools whenever the surf was flat, although not all that often together. We were skating in a different crowd at that time."

Don Piburn
"We have a host of stories from the mid-1970's outlaw skateboarder era that we won't go into here. Suffice it to say that trespass was the name of the game. This started before skateboard parks, so when someone discovered an exceptional pool, bowl, or drainage ditch the word got out. We have back issues of the now defunct mid-1970s Skateboarder Magazine, and they are rife with pictures of that era's apex skateboarding professionals riding the very same San Diego hotspots that we did, many pictured in this montage. Having a pro show up at your spot was common place, and in a few cases they were there because we were close friends.
We weren't making the magazines, but we skated on par with well-known friends who were. That is significant because other modern board sports trace common roots right through the mid-1970's outlaw skateboarding movement. Riversurfing belongs on that exclusive list. Regrettably all the period skateboard pictures of Seal have been lost over the years, so we're adding in just one of him taken on September of 2014 dropping a bowl at Hillyard Skatepark in Spokane, Washington. At 60 years old, no doubt he was the only skater there in vintage 1970's Rector Skate Wear Pads."

Seal Morgan
"In the early 1980s you disappeared on a bicycle tour across the Intermountain west and settled in Northern Utah. You only came back to visit family and ride waves, but we managed to stay in touch. I remember calling you up in the winter of '84 after I bought my first P-tex snowboard (a Burton 150 swallowtail) to tell you to get off that Burton woodie you were riding. When they started making snowboards with p-tex, the sport just took off. Little did I know that four years later we'd be sharing an old farmhouse and surfing together again, but at Lunch Counter instead of in the ocean."

Don Piburn
"We wonder who the first person to river surf the Lunch Counter was. I had heard tales about the first guy circulating among fellow river runners who knew I was a surfer. The story goes that the very first person to take a surfboard out onto the face of the primary wave at Lunch Counter was a displaced California surfer and skier who came up with the idea while running the Snake River during the spring runoff. We have no idea what year or years he was there or what his name was, but if it was in the 70s he likely was riding a single fin and maybe even a longboard …"

Seal Morgan
"It isn't hard for us to imagine the founder's very first leap into the freezing snow-melt of a roaring Snake River to surf the place alone because we had a very similar experience ourselves one fine spring day. There was no one there to guide us, other than some shared memories of a photo we'd both seen in an old surfing magazine, a TV commercial that aired in the early 80s, and the tale about some guy having gone first many years before.
We'd both seen the Mountain Dew soft drink commercial that aired nationally in the 1980's and, as surfers, we were clearly intrigued by the idea of a perpetual wave that never stops breaking. We were told by Lunch Counter locals that the TV production company had a huge safety rope strung across the river, and that river runners just hated that week of filming madness. With everybody all jacked up on the gallons of highly-caffeinated sugar water that was being given out for free, it must have been, well … interesting. Despite all the national exposure, few surfers ever showed up to surf the place during the years we were there."

Don Piburn
"When Seal joined me in Northern Utah for the 1987 winter snowboard season, he brought along his wetsuit and three of the surfboards he shaped and glassed. I borrowed a river runner's dry suit from the University recreation center and suddenly we had all the equipment we needed to follow through on the old stories of a land-locked standing wave only three or four hours to the north somewhere near Jackson, Wyoming."

Seal Morgan
"It was in the spring of 1988 when we headed out on that first trip to actually look for the wave. Knowledgeable contacts in the local kayaker community clued us in on the time of year the wave broke best, how to find it, and where to camp. We racked up my surfboards, loaded the little pickup with a pile of camping gear and food, and headed north through the farmlands of Central Idaho. Surfboards atop my truck invited more than a few bewildered stares from the locals in the fields and small towns we passed through. They'd get used to us over the next few years."

Don Piburn
"There had to have been others like the original surfer on the Snake River elsewhere. Mavericks who were the first in their regions of the world to literally plunge in head first. Progressive men or women who thought just enough outside the box or who had heard the stories or saw the same images that brought us to the edge of the Snake River with our '80s short boards tucked firmly under our arms. We sincerely hope that very first Wyoming surfer will resurface again someday, because that individual was our true pioneer whose lead we followed that first spring run-off day in 88.
River surfing an unfamiliar spot for the very first time was and always will be a pretty harrowing experience. We found ourselves face-to-face with so many unknowns. The water was ice-cold and, because our timing was good, we caught it rising into flood-stage. We had smaller and bigger days over the next few years but that first day of our initiation was both intimidating and exciting. There were no other surfers around to show us the safe places to ferry across, how to get in and out of the water, or how to react after the inevitable wipe-out.
The couple of kayakers that were there guided us with basic suggestions for what had to be in place to ensure one another's safety, but their systems weren't always practical for a surfer's needs. For example, life vests back then were so bulky that they interfered with a surfer's ability to be stable and stay on top of the surfboard while paddling in a torrent of whitewater. Our solution was for our surfboards to act as our floatation, and we relied on being tethered to them. We'd both surfed big waves where surf leashes worked, and they were what we knew. They were not the right solution, and as a result several surfers very nearly drowned when we became separated from our surfboards."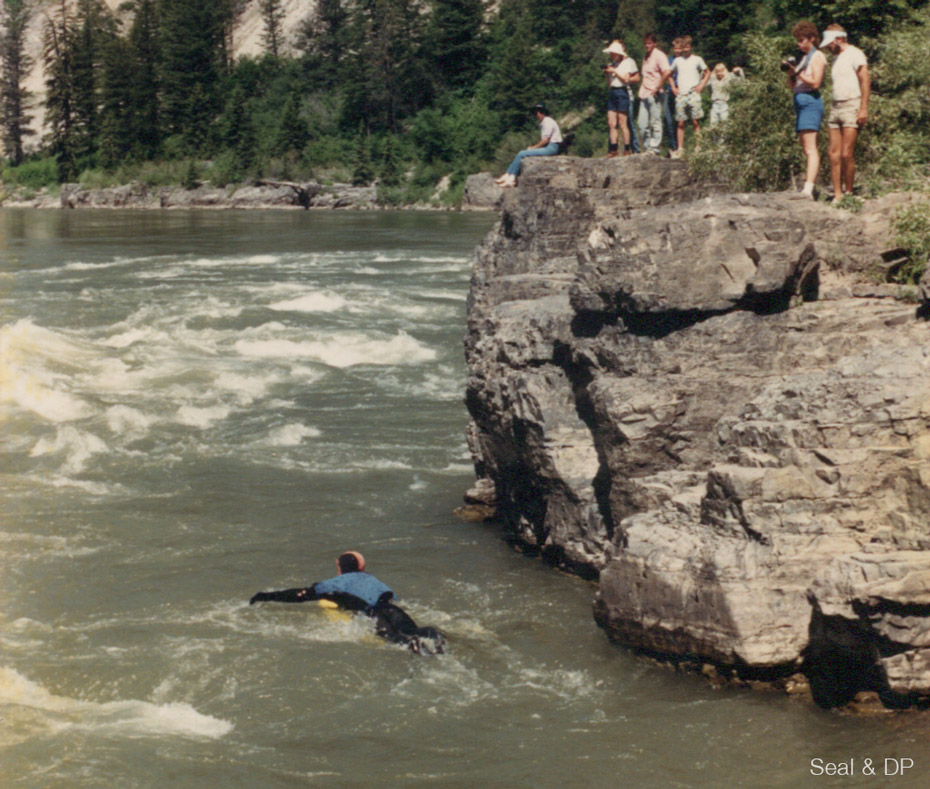 Seal Morgan
"It was very much a trial and error process. My very first jump into the river, to put it bluntly, sucked. Only river surfers know the facing a rapid for the first time 'oh crap what do I do now' feeling. It's not an ocean rip. It's way worse. The river is moving 30mph with whirlpools that suck you and the board down. I leapt in first and just got completely trashed, industrial machine laundered, and spit out upside down and backwards below the rapids. It wasn't nearly as big water as when we rode it at later times. Who would have guessed that I couldn't paddle through a little churning whitewater? I'd been surfing big waves for years and could paddle like a demon. DP suggested that maybe ferrying across upstream in a calm stretch of flat water made more sense. Wish I'd thought of it first."

Don Piburn
"You were usually a bit more gung-ho, and I a bit more cautious. I always preferred to learn from your mistakes. Vicarious learning was significantly less painful, although I made more than my own share of mistakes."



Seal on the Other Side, 1990. Sunny, big with huge surges of water coming through, warm weather, and a cheering section on the other side hooting. What more could a riversurfer ask for? We kept coming back week after week, as many times as we could afford the gas and the wave might be breaking.

Don Piburn
"Seal's last season on the river was in 1991. He kindly left me one of his surfboards. I was able to squeeze in one last, but very eventful season in 1992. The board that worked best for both of us was your old school 5'10″ single-winged swallowtail with V in the tail that was based on the Mark Richards twin fin template. It was a Clark Foam green blank, and had 6 oz. glass job with a 6 oz. deck patch which made it kind of heavy compared to modern surfboard designs. Still, it had solid outlines and was really functional. We both made it work reasonably well. It is the same board I am surfing and loving in all the 1992 video segments. It was a magic board that seemed to work in just about everything."
DP on the Other Side, 1992. Seal moved on in 1991, but he left DP his favorite twin fin surfboard. All of the activity on the parking lot side in the background gives a sense of just how much of a focal point for locals and tourists alike the Lunch Counter rapid was even way back then.

Seal Morgan
"Yep, I left you my favorite twinnie that I shaped and glassed back in the summer of '86. It is one of the few Seal's Ding Repair/Seal Team Rider boards that are left in existence from my Ocean Beach shop. My ex has one, there are three hanging in my house, and I keep hoping I will see one on EBay someday, but that never happens. I didn't shape all that many surfboards, principally because my fiberglass and surfboard repair shop on the beach brought in a much better income than making and selling new boards."

Don Piburn
"The heavy fiberglass job of your twin fin is probably the only reason it survived a particularly horrendous wipeout of yours that I witnessed on the river in 1989. Kayaker Dennis wanted to try surfing the wave on his kayak with one of us board surfers sharing the wave, which he didn't think anybody had ever done before. He paddled into the wave first in his 13 foot Perception kayak. It was a contemporary kayak design for the times, but by today's standards it was very long and heavy. You floated into the wave laterally from the river bank. Oops, big mistake. He took your butt right out, as you can see in the video sequence. He flipped you up and over the back of the wave and your leash held just long enough to pull the surfboard over his bow for a second assault, spinning it once before the leg rope came off and you completely disappeared underwater. I'm stoked you were able to stay the hell away from the whirlpool in that downstream eddy, but none of us knew that at the time. It wasn't big water, but we all knew that spot was gnarly without floatation and you had completely disappeared into the torrent. Everyone was scanning the river and calling for you, but you were nowhere to be seen or heard above the surface."

Seal Morgan
"I was underwater swimming hard for the eddy line at first. I surfaced before I hit the secondary wave, and sprinted through it. I was just barely able to grab hold of the rock face under the bank and hung there to catch my breath. You can see my head at water level in the shadows as the camera pans by. I could hear people yelling above me but I was under the slight overhang and too close to the river to be heard calling back. I inched my way across the rock face until I reached our usual take out spot, which is where you all finally noticed me.
Both the board and I lived to surf again. I had it patched up and back in the water by that very next week. I had to fix a huge rip in the glass from Dennis' kayak, along with several superficial dings and other damage. Modern superlight boards would never survive getting worked over that way by an old 80s model kayak. That board is hanging in my kitchen.
Two on a Wave, 1989. Successful attempt number two for Dennis and Seal to be the first kayaker and surfer to ride together. As Dennis paddles in you can see Seal sitting on the rock face waiting to jump in. After getting knocked off, watch the board then the front of the kayak; the board again, and then behind and above kayaker's head to see it pop up at least 20 feet from where it went down in front of the boat. Seal is hanging onto the rock face at water level as the camera pans following the kayak as Dennis races to rescue Seal from drowning. Nobody knew where Seal was as you can hear in the audio.

Don Piburn
"Dennis and I had another go at sharing the wave together just a week later, but we had learned a thing or two from all that earlier drama. I jumped onto the wave first, and Dennis slid onto the bank side of the wave where he couldn't run anybody over again. We were pretty focused on what we doing at the time, trying our best to avoid repeating the same mistakes."

Seal Morgan
"Kayakers sitting nearby on the bank agreed to do the upstream safety watch I had been assigned to, so I grabbed my board and trotted upstream out of view. I wanted to sneak into the water and drop in on you unexpected-like. It worked, too. Neither of you had any idea I was coming in, being as intent as you were on the wave and what you were doing together. I just kind of appeared and squeezed DP right over into Dennis as I backed onto the soup (whitewater) side of the wave face and stood up. The video segment of the three of us riding Lunch Counter at the same time was probably a first. None of the local yakkers had ever seen or heard of it being done before 1990. DP was trapped in the middle between us and had no wave face for generating speed and nowhere to go except up and down like a damned yo-yo as the river ebbed and flowed. That was pretty funny, as I just stayed in the same spot and he kept asking me how the hell I was managing that. Hey, I grew up on a beach-break!"
Three on a Wave, 1990. From the participant side again. Dennis gets on first in Myra's squirt boat, DP surfing the Seal Team 6′ O" Fish goes second, and then Seal comes out of nowhere and squeezes DP into Dennis and that means we're the first to surf 3 on Lunch Counter's wave. Twinfins don't like to go straight and stay in one place hence, shown here for the first time, the brilliantly conceived 'yo-yo move' being perfected by DP.

Don Piburn
"River surfers were few and far between in the 1980s. That's less true now with an entire online magazine and scores of U-tube videos dedicated to and promoting the sport. We saw only a handful of other surfers pass through in all the years we surfed the place together. Most weren't even able to get to their feet much less ride with any style. A common mistake for many people was to look down at the water screaming by underfoot triggering instant vertigo, and down they'd go. That changed just a bit in 1992 after Seal had left. Maybe it was all the press we were getting in the local newspapers and sports rags, but there were suddenly a handful of reasonably decent surfers that showed up to ride the place that last year I was there."
A Lone Redcoat, 1992. Early in the 1992 season DP was surfing solo, so he rented a video camera and tripod a ignoring the fine-print in the rental contract paddled them across the Snake River in a dry-bag. He asked whatever river runner was handy to hit the record button. DP is wearing yet another layer of river-gear just trying to keep warm. Note the cutting edge (for those times) kayaker streaking through at the beginning of the clip.

Seal Morgan
"I remember maybe eight other surfers total who showed up over the four season I surfed it with DP, and there was only one other guy who rode it well. He drove down from Jackson one weekend to surf it with us after seeing us in the Jackson newspaper, because he said he didn't like to surf it alone. He ran a Snake River guided boat outfitter business, and he had learned to ride a surfboard on the Lunch Counter. He was riding regular foot on a mail-order single-fin longboard doing the relaxed cruiser-type surfing with good style. He said once he had tried to translate his surfing skills to the ocean on a trip out to coast, but, as any of you who ocean and river surf know, the two involve an entirely different set of surfing skills. Being successful at one doesn't necessarily transfer to being successful at the other, at least not without a moderately steep learning curve."
Longboarder, 1989. We're sorry we don't remember your name! This was a local guy from Jackson who learned to surf at Lunch Counter riding this mail-order single-fin longboard. He came down after seeing us in the local newspaper because he didn't like to surf it alone. Nice guy and he was about the only person who surfed it well that we ever saw there. We hung out a number of times after we hooked up. Can you imagine learning to surf on this wave by yourself?

Don Piburn
The Lunch Counter primary wave had a window above or below which the wave is more or less not surfable. Too low and there's not enough wave face to keep the current from whisking you downstream. Too much water and the wave will flatten into a pulsating hydrodynamic sculpture that is genuinely beautiful but is essentially useless from a surfer's perspective. A typical surf season would have us monitoring the river run-off telephone update recordings starting in early April when the snowpack was deep, but melt-off was slow. Our plans were typically to start surfing in May and throughout the whole of June into July. We were there every weekend when it was breaking as time allowed, during the week as well. April was just too cold to deal with most of the time, although we did surf it a few times that early in the season.
What we referred to as "big water" was 10,000 to 14,000 Cubic Feet per Second (CFS). Big water was when the wave was the most challenging, but also the most fun to surf. We could ride the wave as low as 4 or 5,000 CFS, but below that there wasn't a wave face. It was little more than a line of soup. River flows naturally depended on the weather, melting snowpack, and the whims of the Teton Dam operators upstream. Local knowledge mattered, combined with a good bit of guess work."
A Noon Surf, 1989. This was at the same weekend as the Raft Wave-In. Heavy wind but with good size and a very surf-able face to work. The board smacks or dodges tree limbs and other chunks of debris throughout this ride.
_______________________
Don Piburn is a surfer, '70s outlaw skateboarder, '80s backhill snowboarder, and late '80s Snake River surfer. He moved to Oah'u in the '90s where he continues a 30+ year career teaching infants, toddlers, and preschoolers with disabilities, surfs north shore, kayaks windward reefs, and takes weekly hikes with his Hawaii born and raised wife, Janice.
Seal Morgan teaches free snowboard lessons at 49′North, Kenpo in home dojo, skates 70s pool riders, wakesurfs old Hyperlites, surfs Olympic Peninsula summers on twinfins, plays mean lead blues harp and congas, and builds custom winter gear for locals in his Selkirk Range of NE Washington State sew shop www.boardwarm.com. No tv since '93, never owned a cell phone, leaving plenty of time to read and think.