Spots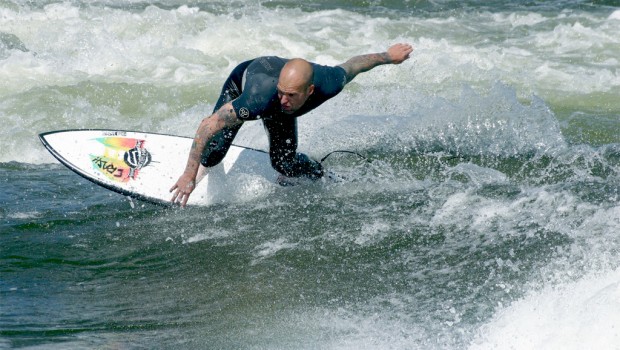 Published on March 28th, 2013 | by RB Team
Photo by Kelly's Whitewater Park | 
1
Kelly's Whitewater Park
Kelly's Whitewater Park (KWP) is located in Cascade, Idaho. The whitewater park features a number of river waves, including good opportunities for fun and beginner-intermediate river surfers. KWP is Idaho's first whitewater park and it is free to the public. The unique feature of the KWP is its constant river flow which is controlled by a dam just 1 mile up river, allowing for a long season from Spring through September.
Kelly's whitewater Park only works during certain times of the year. The lowest CFS you will want to surf this spot is 2,000. If you can get there between 3,000 and 4,000 CFS the right shoulder greens up so good and it can be one of the best waves around.
Once you master Kelly's, you might head on to other popular spots in the area: Gutter outside of Horseshoe Bend, the 36th Street wave between Boise and Garden City, the Weir, Fish Ladder and a handful of other seasonal rapids on the Payette River.
Spot Details
Address
Kelly's Whitewater Park, Cascade, Idaho, United States, North Amercia
Directions
Enter at Mile Marker 114.44 on Highway 55 at the South East end of Cascade. The park entrance is on the east side of Highway 55 just past the railroad and north of the Birch Glen Lodge.
River
Nearest City
GPS Coords
Latitude: 44.51138049
Longitude: -116.03014112
Wave Details
Conditions
Minimum: 2,000 CFS
Ideal: 3,000 – 4,000 CFS
Characteristics
Good for beginners and intermediates too.
Tips
Boards: Shortboards, Fishs.
Try to be there between 3000 and 4000 CFS — when the right shoulder greens up it can be one of the best waves around.
Current Conditions
Cascade ID Weather
Today
Tuesday

Overcast

-1°/-4°

Snow

1°/-5°
More about Kellys Whitewater Park