Spots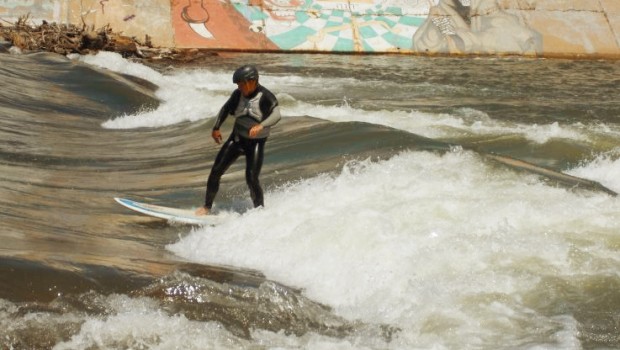 Published on April 28th, 2017 | by RB Team
Photo by Chad Parson | 
0
Pueblo Whitewater Park
The Pueblo Whitewater Park hosts eight waves in total and is located on the Arkansas River in Pueblo, Colorado. The park is about half a mile in length and offers a range of river surfing features. Depending on the flows and the time of year the drops vary from very tame (early spring and late fall) to epic conditions (Late June early July). Each drop has a sizeable eddy beneath it. It can be a great place for river surfing beginners and also a good place to go for some of the warmest water in the state as it sits in Lake Pueblo before being released downstream through a dam.
Spot Details
Address
Chapa Place, Pueblo, Colorado, United States
Directions
The Pueblo Whitewater Park can be accessed by exiting I-25 at either 6th Street or 1st Street. On First Street travel West on first turning left at Union Avenue. Continue on Union Avenue crossing the bridge and immediately turning right on to Corona Street. This is the end of the park and a good place to park so that you do your hike before you surf and not after. If you exit 6th Street travel West on 6th Street, turn left (South) on Elizabeth, go 2 blocks and turn right on 4th Street. Continue West on 4th Street and turn left on Chapa immediately after crossing the bridge. Follow Chapa to the left behind the chinese restuarant then turn right on Pearl Street. The Parking lot for the park will be on your left. This is at the top of the park nearest the number one drop or "P-Wave". There is a little bit of a hike to get to the river, but not too bad (playak.com).
River
Nearest City
GPS Coords
Latitude: 38.26684492803721
Longitude: -104.62262304680479
Wave Details
Conditions
Flows are decent at 300cfs but fun starts at 600–800cfs and above.
Characteristics
Several waves in the waterpark, some are surfable.
Dangers
Tips
Use of life vests and helmets is recommended.
Current Conditions
Pueblo, CO Weather
Today
Monday

Snow

2°/-8°

Clear

11°/-11°
More about Pueblo White Water Park