Accessories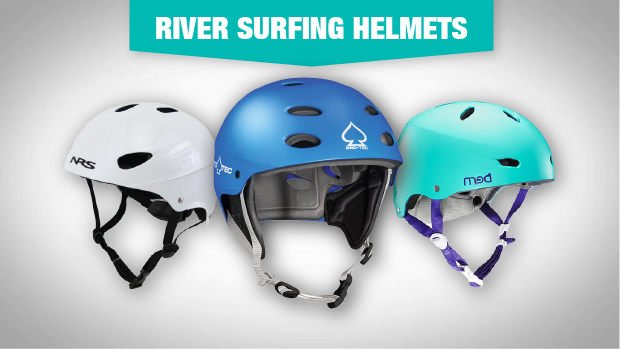 Published on December 20th, 2016 | by RB Team
0
Helmets for River Surfing: Buying Guide
Every sport has its own protective gear and equipment. River surfing should be no exception. As any other whitewater sport, river surfing requires you to consider some security issues before you jump on it and a watersports helmet is a must for protection. Given that many fatalities in water sports are due to drowning after concussion, a helmet is the best protective gear you can wear. Ultimately, wearing a helmet shows that river surfers are responsible people.
In river surfing even a small mistake can be fatal. If you get hit by your own surfboard or if you hit a rock you can lose consciousness and drown. A helmet can help prevent head trauma and thus loss of consciousness. But what should you look for when you go shopping? In this article we cover the most important things to consider before buying a new lid for your head. Towards the end of the article you'll find a selection of both affordable and high-end helmets.
Here's what you need to know to make the right choice.
Helmet Types
There are three basic types of watersport helmets: half-cut, full-cut and full face helmets.
Half-cut (or half-shell) helmets are similar to bicycle helmets. They sit above the ear and protect the top, back and side of your head. They are lighter weight and often more comfortable than full-shell helmets but offer less protection. Some half-cut helmets feature removable ear flaps to add warmth and protect your ears from damage and cold water.
Full-cut (or full-shell) helmets not only protect your head but provide extra protection by also covering your ears. As helmets might dampen the sound, full-cut helmets often include ear vents to improve hearing. In cold conditions, full-cut helmets not only add protection, but can also add some warmth to your ears. In very cold weather, you can wear a neoprene skull cap under your full-cut helmet for insulation against heat loss.
In extreme cases, whitewater paddlers also use full face helmets that look like motor cycle helmets and feature a visor and chin guard.
Components and Materials
A helmet consist of different components that are made of different materials. The price of helmets often reflect material choices, especially when it comes to shell and liner materials. Every helmet consists of the same four basic components:
Shell: The outer component of the helmet; spreads the force of an impact over a broader area and protects your head against injuries from sharp objects.
Liner: The cushioning component underneath the shell; absorbs the impact so less energy is transmitted to your head.
Padding: Fit pads that can be arranged on the inner liner to adjust fit and comfort.
Retention system: The straps that keep the helmet secured to your head.
Shell: Basically, there are two kinds of shells, plastic and composite, and opinions on them differ. While composite shells are praised for their strength and light weight, plastic helmets are recognized for their better flex and impact absorption. Manufacturers use a variety of terms for plastic shells such as PE, ABS or PC and there is a wide range of composites such as carbon fibre, fibreglass or Kevlar.
Liner: The foam liner of a helmet absorbs the impact of a hit so it won't get straight to your head. Liners for non-watersport helmets are typically made of Expanded Polystyrene (EPS), which is a single impact foam and therefore not the best choice for watersport helmets. The two most popular liner materials for watersport helmets are Expanded Poly-Propylene (EPP) and Ethylene Vinyl Acetate (EVA), which are not affected by moisture and can take multiple impacts. Some helmets are lined with closed-cell foam, which is softer and basically the same material that camping mats are made of.
Padding: Helmets typically come with pads in different sizes and thickness to customize fit and maximize comfort. Pads may either be self-adhesive or attachted to the liner via a hook and loop fastening system. These pads can be cut or arranged in a variety of ways to fit your head.
Retention system: The straps of a river surfing helmet must be strong and reliable and securely hold the helmet in place. Almost all whitewater helmets have a chin-strap with a quick-release buckle that connects and tightens the helmet to your head. Good helmets also have an adjustable back head strap to give a firmer fit. Some even come with a magnetic buckle to ease operation with one hand or gloves while minimizing the risk of neck pinching.
Fit and Sizing
When buying a helmet for river surfing, as for any other sport, make sure you always measure your head properly and consider different brands, models and sizes of helmets. Helmets come in different shapes and some helmets can fit one shape of head while others fit another shape. Make sure your helmet fits snugly without pressure points. If a helmet feels loose and slides when you turn your head, it's too big. The right helmet stays put even if the chinstrap is left undone.
Helmets for River Surfing
To date, there are no helmets specifically designed for river surfing. However, helmets for kayaking, wake-boarding or kitesurfing can perfectly be used in river surfing. A growing number of manufacturers are responding to the demand for safe and stylish watersport helmets, with Pro-Tec, Gath, Bern, Predator and WRSI being among the most popular ones. We've put together a list of some of our favourite watersport helmets to use for river surfing. Please note that we have not tested all these helmets but the ones below reflect a wide range of designs, features and prices.
WRSI Trident Composite
The
 WRSI Trident is a popular half-cut kayak helmet, featuring a lightweight, high-impact carbon composite shell combined with a polyurethane sub-shell and an EVA foam liner. It comes with nine foam pads that can be adjusted to fit different head sizes and shapes. Its interconnected retention system and an adjustable O-brace harness keep the helmet firmly in place. The WRSI Trident has a visor to keep the sun or water out of your face and comes in many different colours to suite everybody's taste.
Gath Surf Convertible (SFC)
Gath prides the
 Surf Convertible (SFC) on being the lightest, coolest and lowest profile Gath. The helmet is designed for ocean surfing and features removable ear protectors and foam forehead coverage that adds additional protection. The shell is made from high impact resistant ABS plastic and a non-absorbent, molded closed-cell foam liner. Its fit can be customized with comfort fit strips. Available accessories for the Gath SFC include a GoPro camera mount.
Pro-Tec Ace Wake
The
 Pro-Tec Ace Wake features a high-impact ABS shell and a dual-density, waterproof EVA liner. It's equipped with 16 open vent holes for ventilation and water drainage. The cupping ear protectors are removable. The helmet's Head Lock fit system increases comfort and fit by cupping the back of your head. Overall, the Ace Wake combines durability and ultra light protection with great adjustability.
NRS Havoc Livery
The
 NRS Havoc Livery – described by NRS as the "one-size-fits-most solution to whitewater safety" – is an affordable option available in a selection of colours. It has a lightweight ABS plastic shell combined with an EVA foam liner for impact protection and FIT pads to provide comfort. The helmet is equipped with drainage/ventilation ports to let air in and water out and an adjustable chin strap. Its DialFit system lets you adjust the Havoc Livery to fit your head size. With its universal fit, the NRS Havoc Limery Helmet is a great choice if multiple people share the same helmet.
WRSI Current
Like the NRS Havoc Limery, the
 WRSI Current is designed to fit a range of head sizes. It's made from ABS plastic with a polyurethane sub-shell and an EVA foam liner. The WRSI Current comes with foam pads that can be adjusted for a custom fit and its interconnected retention system and an adjustable O-brace harness keep the helmet in place. The WRSI Current Helmet comes in two models with or without vents to let water drain and air in. For those looking for ear protection, a third model, the
 WRSI Current Pro adds removable ear pads for extra warmth and protection and a visor.
Bern Brighton H20
Bern's
 Brighton H2O is a watersports helmet specifically designed for women. It has an ABS shell combined with soft moisture wicking foam (Bern's innovation "Brock" foam) with EVA and neoprene. The helmet is equipped with an adjustable chin strap and vents for drainage and greater breathability. If you're looking for extra protection or warmth for your ears, you can upgrade the Brighton H20 with removable neoprene earpads that can simply be attached to the helmet with press-studs. For all male river surfers, Bern's
 Macon H20 is the male counterpart to the Brighton H20.
Keep your head in one piece
Make sure you get a helmet that you'll actually wear. Many shops will let you send a helmet back for refund or size change if you aren't happy with the fit or design, so buying online is low risk. Be sure to look after your head – it's the only one you have!