Breaking News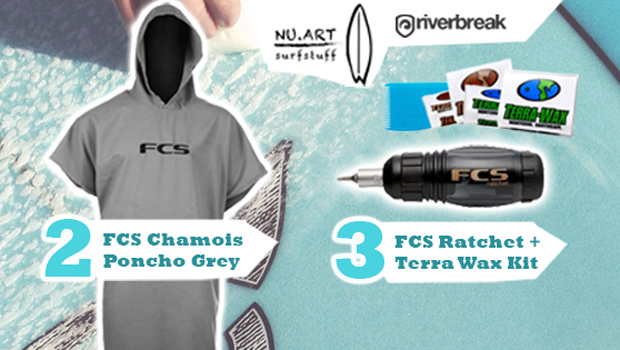 Published on May 6th, 2014 | by RB Team
Photo by Riverbreak | 
0
2014 River Surf Photo Contest
Spring is here and the sickest waves are already in. To express our gratitude, Riverbreak and NU.ART surfstuff give you a chance to win superb river surf giveaways. No matter if you send in a photo from 5 years back or a shot from the current season — anything related to river surfing is welcome. Let's celebrate this epic start of the season by showing the world what river surfing is all about!
Grab Your Chance
Riverbreak has teamed up with NU.ART surfstuff to host the first ever River Surf Photo Contest in the history of the sport. And the best part of it … you don't even have to be a professional river surfer to take part in it. The contest is open to anyone and anything that relates to river surfing, so don't hesitate and dig out your coolest, funniest or craziest river surf photos.
How to Enter?
All you have to do for taking part in the world's first river surf photo contest is to submit your river surf photo between April 7th and May 28th (12 p.m. CET). It's as easy as this: (a) register for the contest and (b) upload your photo through our registration form.
How to Win?
You want to know how to grab the giveaways? All winners will be determined by a public voting taking place from May 29th, 2014, 12 a.m. CET, to June 8th, 2014, 5 p.m. CET. The voting in your very own hands! All photos submitted will be published in the Facebook photo albums of Riverbreak and NU.ART surfstuff where your photos can be liked by your friends, family and others. For each photo all likes received in both albums will be summed up – the one with the most likes wins!
What to Win?
1st place: 1 FCS Trekker Backpack worth € 100,-
2nd place: 1 FCS Poncho Chamois Grey worth € 50,-
3rd place: FCS Ratchet and Terra Wax Kit worth € 30,- (consisting of 1 piece FCS Ratchet, 4 pieces Terra Wax, 1 piece Terra Wax Base Coat, 1 piece Terra Wax comb)

What to Submit?
All photos related to river surfing are welcome. The teams of Riverbreak and NU.ART surfstuff reserve their right to exclude off-topic or insulting photos from the contest.
In Short
Submissons
From April 8th, 2014 to May 28th, 2014, 12 a.m. CET by filling out the registration form.
Voting
From May 29th, 2014, 12 a.m. CET to June 8th, 2014, 5 p.m. CET on the Facebook pages of Riverbreak and NU.ART surfstuff.
Celebrate the beauty of river surfing, spread the word and submit your favourite river surf photo today: registration form