Events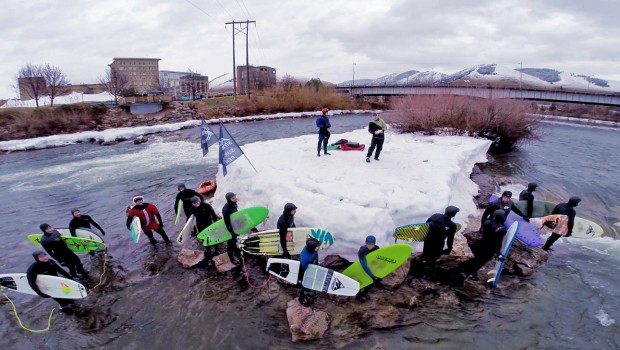 Published on December 19th, 2014 | by Jacob Kelly Quinlan
0
Fundraising In Your River Surfing Community
It is no secret that river surfing communities around the world want to build a perfect wave in their neighbourhood. A key piece of any wave building project is fundraising.
It's not the easiest thing to ask people for money but here are some examples of local fundraisers that happened around the river surfing world. By far, the best advice we can give you for raising wave building cash is make it fun! Enjoy the following examples of previous fundraiser below and listen to the interview with KB, the president of the Missoula Surf Association (MSA), on how he motivated dozens of surfers to come down to the river to "Chill For The Max".
High Water Charity Day (2013)
This was an international event that happened in Munich, Graz and at the Alm Wave back in 2013. Although the event was not geared towards building a wave, surfers raised money for charity. All together the three communities raised a couple of thousand Euros for flood victims in Germany, Austria and Switzerland.

Waveraiser (2014)
This river surfer initiative in Calgary, Canada raised over $8.000 for the Surf Anywhere project in the Kananaskis. The event brought together artists, musicians, dj, and sponsors. The group used raffles, auctions, tshirt sales and bar sales to raise their cash.

Leinewelle Paddle Down (2014)
This is one of the coolest events put on by river surfers to raise awareness for wave building. Personally, I think we should create an international float day to raise awareness for wave building! Check out this incredible video for more on the event and on the Leinewelle.

Pemberton Pizza Party (2014)
Our friends building the Pemberton Wave have thrown many fundraisers all in collaboration with other community members. In this case they teamed up with a local pizza restaurant to bring them more traffic and in return Creekbread donated a portion of their profits. The great thing about this event is it brought people together to a common meeting place and a great suggestion for communities that don't already have a wave to meet at.

Chill For The Max (2014)
Three hours of surfing in the freezing cold, the surfers from the Missoula Surf Association (MSA) raised over $6.000 for the Max Wave project in 2014. The cold weather didn't keep the fundraiser from having a huge turnout with lots of success. For more information check out interview with MSA president, KB Brown below.

Interview with KB from the Missoula Surf Association
*Shout out to Wes Cook of the Boise River Park Surfers for the idea for the article.
** Photo credit for the Chill For The Max photo: Jedzilla