Events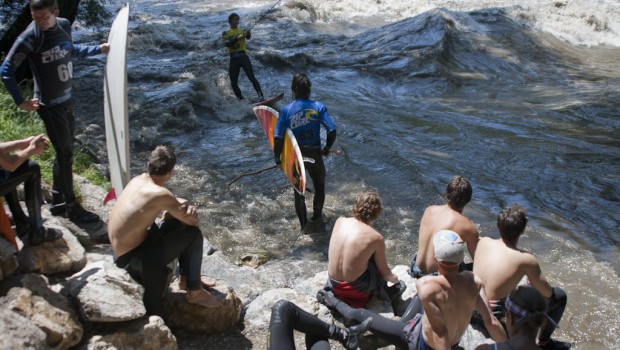 Published on February 26th, 2013 | by Börny
Photo by Bernhard Lukas | 
0
Murbreak Riversurf Contest 2012
Every year riversurfers from Austria join the "Murbreak Riversurf Contest" at the Radetzky bridge on the river Mur (pronounced "Moore") in Graz. After an unsuccessful year 2011 with no contest due to low water levels the sixth Murbreak Riversurf Contest was held on 24th of June 2012 with a perfect water level of 410cm.
In spite of the late announcement (water level forecast is only possible for a few days) there were 28 surfers. Very good weather condition, too. There were a lot of arials, three-sixties, one-eighties, ollies and other tricks. Finally Flo Wagner beat last contest's winner Stefan Schafgassner. Third and fourth place went to Wolfgang Taucher and Michael Reitmann. Two girls also took part in the contest. Chrissi Rieger reached place 9 and Lisa "Dr. Lisa" Veith place 16.
Final results Murbreak Surf Contest 2012:
1. Florian Wagner
2. Stefan Schafgassner
3. Wolfgang Taucher
4. Michael Reitmann
5. Alex Schwab
6. Sepp Bauer
7. Paul Sorger & Ralph Weissnegger
9. Chrissi Rieger & Florian Galler
11. Thomas Kugi & Stefan Themessl
13. Paul Stornig, Franz Quehenberger & Niko van Hal
16. Lisa Veith, Tom Staud & Kevin Etheridge
19. Hermann Strauss, Clemens Scarpatetti & Michael Hansmann
22. Georg Dornhofer, Christoph Kaiser & Hannes Herr
25. Matthias Wröhlich, Martin Konrad, Thomas Kaiser & Max Wurm
Judges: Alban, Christoph & Migl.
Sponsors: Blue Tomato, Surf Service Graz & The Chillhouse Bali Surfcamp.
Murbreak 2012 Gallery