Events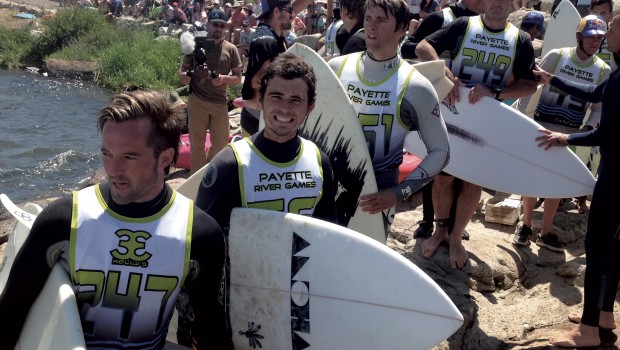 Published on June 22nd, 2014 | by Jacob Kelly Quinlan
Photo by Riverbreak | 
0
Payette River Games: Open Class Results
What an exciting day — amazing rides from all the open riders today, especially Derek Rabelo! For a surf comp there was certainly an uncommon positive energy in the water today. Elijah Mack's advice to all the surfers today was, "have fun". But when the whistle blew and the jam session started you could feel it in the water. Everyone there was more stoked on competing and being part of the games then winning first prize.
The standing are as follows:
Biggest Air – Jeff Brooks
Alberta contender Jeff Brooks was a shining star in the competition and a clear favourite with the judges. Jeff came in a close second in all the other categories.
Biggest Snap – Tobias Carleton
Local favourite Toby has a quick, snappy aggressive style that can't be missed. 
Most Innovative – Eric "Monkey" Chretien
Coming straight from Montreal's epic St. Lawrence waves, Eric is was showing off with some of his trademark moves.
Best Carve – Dave Boehne
Dave's smooth and controlled style comes straight out of California. Repping Infinity surfboards and for never being on a river wave before, Dave's style was a treat to watch. 
Best Overall Ride – Derek Rabelo
What an incredible story. We're so lucky to have blind surfer, Derek Rabelo here with us at the Kelly's Whitewater Park this weekend but seeing him stand up and surf in the wave today was a special moment for everyone.
Best Overall Performance Female Competitor – Kiley Zanecki
Kiley was our only female competitor today and although she wasn't able to show off some here moves during the comp she's been surfing the Kelly's wave all weekend and was a great sport for jumping in with the male competitors.
We'll be back tomorrow to report on the Men's Elite class. All the competitors are warming up this evening and it is looking sick!
Stoke and Flow,
Jacob Kelly