Events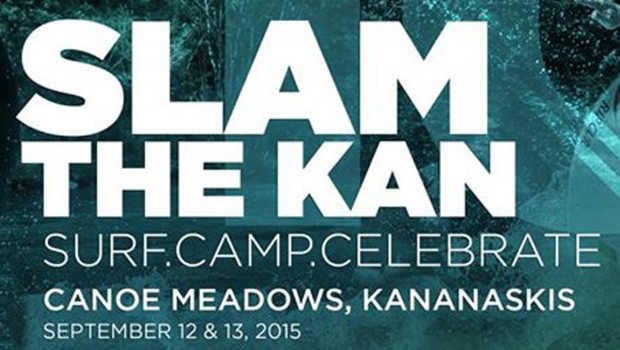 Published on August 29th, 2015 | by RB Team
Photo by Robert Bishop | 
0
Slam the Kan 10: Surf, Camp and Celebrate
Alberta's biggest surf event is back with a bang! The Alberta River Surfing Association (ARSA) wants all you awesome folks to surf, camp and dance with them. Slam the Kan celebrates mountain surf culture, and this year marks the 10th anniversary. So they're going big with epic activities all day and all night.
Slam the Kan, now celebrating its 10th year, invites everyone to share this year's fun. From September 10-13 Slam the Kan event includes a film premiere, surf demos, SUP demos, a ladies surf expression session, the Surf Slam competition, surf yoga and a SUP race.
Kicking off this year's event at Calgary's Plaza Theatre on Thursday September 10, is the film premier Can I Surf That? A question and answer session will follow with filmmaker Brittany Parker.
Location and Programme
This year's main event will take place at Canoe Meadows Camp Ground in Kananaskis, Alberta on Saturday September 12. Join Alberta surfers (100 and growing) for a day and night of surfing, camping and music. Water sports will run from 10:30am-4:00pm with demo surfboards available from RMRS (Rocky Mountain River Surfing).
The format of the Surf Slam differs from a traditional surf contest.
Watch the Surf Slam competition as crews, consisting of six surfers, battle for the title of King of the Mountain. The format of the Surf Slam differs from a traditional surf contest — instead of assessing individual skill, judges and the audience will evaluate each crew's collective effort.
Saturday evening's entertainment showcases bands such as Ten Minute Detour, Bloom, A-Mac and DJ Funkin' Right, amongst others. Sunday's events include surf yoga and a down-river SUP race.
What To Bring
Contest organizers Jacob Kelly Quinlan, Neil Egsgard and Justin Gullickson encourage attendees to bring something to the event that will make the day better for everyone. This could be a game, costumes or baked goods (and lots of them). Attendees should also bring camping gear, food, beverages, beach gear, and cash and credit cards for shopping and food truck purchases.
Slam the Kan is a not-for-profit event that supports the Surf Anywhere project to build world-class river waves. Tickets are available for purchase from your favorite river surfers (whoever sells the most tickets wins a wetsuit). Tickets are also available from Studio Revolution and online. ARSA (Alberta River Surfing Association) is dedicated to promoting river surfing as a viable past time. For the ten years ARSA has organized social gatherings and raised funds to build the wave at this year's event.
More Information
Website: www.slamthekan.com
Jacob Kelly Quinlan: jacob.kelly@surfanywhere.ca
Official event photographer: Robert Bishop www.rbishophoto.com