Events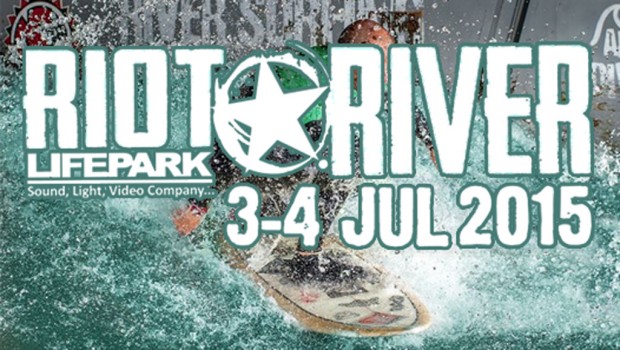 Published on July 3rd, 2015 | by RB Team
Photo by Riverbreak | 
0
Slovak Open: River Surfing Championships
This year's Riot River festival is your chance to put those moves you've been working on to use. On top of € 2,000 prize money, you get the chance to bang your head to the legendary New Jersey hardcore band "Dog Eat Dog" and "Ignite" from sunny California. This is for real, so who's gonna be the king?
Prize Money
This year, participants will compete over a prize money of € 2,000. You really shouldn't miss out on one these rare chances to compete with Europe's river surfing elite.
Schedule
Training for registered surfers will be on Thursday and Friday (2nd/3rd). Qualification for the main event on Saturday will take place on Friday the 3rd, in case too many surfers register. This is the schedule for the event and the schedule for the river surfing competition on Saturday. Times may be adjusted according to the number of registered surfers.
Registration
Each surfer must register here or directly at the contest site. Registration deadline is Friday 3rd of July, 6pm. The registration fee of 15 Euro must be paid cash at the surfhouse next to the wave. The registration entitles surfers to enter the wave for 4 days and it comes with free entrance to the concerts during the Riot River event. The registration also entitles surfers to rent fins specifically made for this wave for free, which must be returned after the event.
Rulebook and Judging Criteria
Surfers will be judged based on the overall performance during the heat according to the following criteria:
 1. SPEED, POWER & FLOW
Maintaining speed, surfing rail to rail, utilizing the full potential of the wave.
2. COMBINATION OF MAJOR MANOEUVRES
Surfers must execute radical controlled maneuvers, focus will be on good surfing style as well as on performed tricks. A combination of turns and tricks will be rewarded highest.
3. VARIETY OF MANOEUVRES
A full repertoire with a variety of shows a complete skill package, which is essential for obtaining excellent scores.
4. COMMITMENT AND DEGREE OF DIFFICULTY
Performing maneuvers with a high degree of difficulty and full commitment, taking risks instead of surfing safe will be rewarded.
5. INNOVATIVE AND PROGRESSIVE MANOUEVRES
Progressive surfing as well as innovative "new school" performance is what judges are looking for when separating scores and riders.
Surfers will be judges based on the overall performance during the heat. Utilizationof speed, power and flow, utilisation of the wave potential, commitment and innovation, variety and difficulty of maneuvers will be judged. The surfer that shows the most skills during the heat will be rewarded the highest. Download judging criteria.
Judges
Three international judges will be choosing the best surfers.
Fin Recommendation
We recommend FCS G-X fins with a maximum fin depth of 10cm. The surface of the wave has been adjusted this year so to lower the risk for plugs to get harmed. However, if you decide to use our smaller fins, these will be available for each registered participant for free (for a deposit of 10 Euro each) and must be returned after the competition. Should they not be returned or should they be broken, each fin will be charged with 10 Euro and the deposit will be returned accordingly. FCS G-X fins are available at NU.ART surf stuff.
Accommodation and Camping
Please book your accommodation in advance as the rooms at the resort can be overbooked quickly. Registered surfers get a 10% discount at the hotel or bungalows. For more Information please click here. Camping at the resort is for free for everyone.
Contact and Registration
Click here to register for the event.
For more details on the event get in touch with:
riversurfing@riotriver.sk
+421 905 170 158