Stories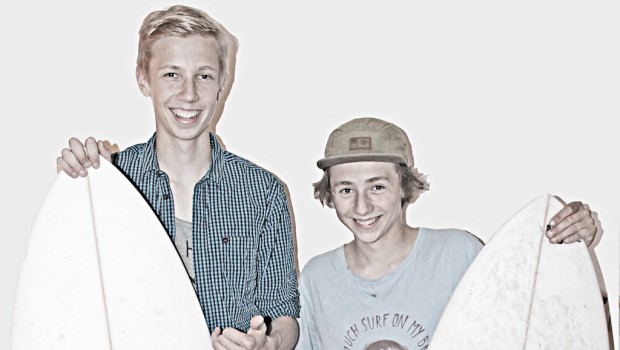 Published on July 31st, 2014 | by RB Team
Photo by Buster Surfboards | 
0
Buster Surfboards – New Rookie Team Announced
Living in landlocked Germany doesn't make it any easier for young surfers to start an actual surfing career. Not much of a coastline, usually only little money in the pockets, and if the youngsters do get to the Atlantic coast during summer holidays, jam packed line ups and a moderate summer swell is the best they can possibly get. And who can persuade parents to choose their holiday destination based on the surfing conditions?
Despite this there are also talented surfers in Germany and anyone who wants to be among the best in surfing should be in the water as often as possible even at a very young age. The rookie team idea has quite a long tradition at Buster Surfboards. This approach was tried out for the first time in 2007 with the surfers Simon Strangfeld, Paul Günther and Steve Ratzisberger – all of them surfers who are big names in the German surfing scene now.
When your company is also based in the capital of river surfing then talent scouting is not that difficult. All you have to do is regularly pop by the Eisbach to find talented movers. Talent scouting 2014 was also supported by Buster's "All Star" team rider Gerry Schlegel, who also cares deeply about the young surfing talent in Germany.
Simon Strangfeld, Paul Günther and Steve Ratzisberger are big names in today's river surfing scene.
The new rookie team includes the two brothers Dominik (17 years old) and Moritz Wienecke (15 years old) from the LGS Crew. They have both already impressed the Munich river surfing scene with extremely challenging technical moves on the Eisbach and have the potential to also really score at sea with a bit of practice. Buster Surfboards is not only supporting both of them with material but also with networking to make it possible for them both to spend lots of time at the sea, even on a small travel budget.
The youngsters are not short of major goals but do need more support and hope to attract more sponsors so they can be in the water as often as possible and follow a similar path to other members of the first Buster Surfboard rookie team from 2007.
You can find more information about the Buster Surfboard team at: http://www.buster-surfboards.com/d/team.html
New Rookie Team at Buster Surfboards