Stories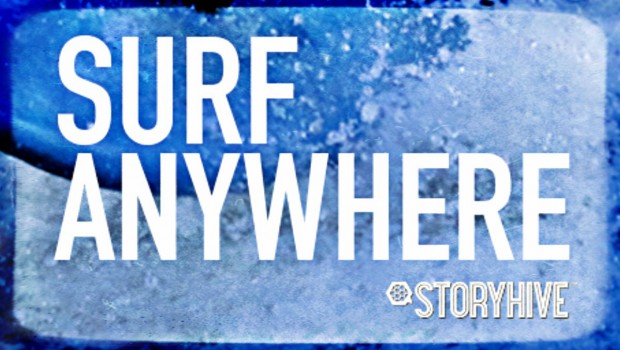 Published on March 15th, 2016 | by RB Team
Photo by Desiree Bilon | 
0
Surf Anywhere: A Story of River Surfers in Alberta
The film "Surf Anywhere" is the story of a small group of river surfing pioneers who are sculpting a world-class wave on the Kananaskis River, forty-five minutes outside of landlocked Calgary, Alberta, Canada. Over the years Neil Egsgard and Jacob Kelly Quinlan, amongst others, have molded a standing wave called The Mountain. They have not only built a wave, but also a river surfing community. The goal of their project, called Surf Anywhere (from which this film takes its name), is to create sustainable river surfing communities throughout the world. The river surfing revolution is here. Surf Anywhere – coming soon to a river near you.
45 minutes outside of Calgary, Alberta, at 3500ft above sea level, the Kananaskis River churns out 1000 cubic feet of water per second during the day. At night the power dam is shut off, allowing river surfing revolutionaries Neil Egsgard and Jacob Kelly Quinlin to tweak their new designs for sculpting a world-class surfing wave. But they aren't keeping this knowledge to themselves—they want to share their wave designs with everyone, everywhere, for free.
River surfing is still really new and we're all connecting over this love of exploring and finding new waves (Jacob Kelly)
In 2005, Egsgard and Quinlin, amongst others, founded ARSA (Alberta River Surfing Association), which now represents over 100 river surfers in Alberta. Egsgard confirmed, "Surf Anywhere was born out of the need for ARSA to have a world class wave. This selfish quest quickly turned into a project to improve the world." These guys aren't really selfish though—they want to share their knowledge with river communities, everywhere. Any river community can access the open-source, easy-to-follow plans to build their own surfing waves.
The Surf Anywhere wave is based on the design of the Eisbach river wave in Munich, Germany, that surfers have been riding since 1972. ARSA has improved the original structural drawings to build and test a bigger, better and adjustable wave. "Because our river shuts off at night, we can afford to make mistakes," said Quinlan.
Building the wave has been a labour of love and an obsession (Neil Egsgard)
According to Egsgard, all you need is a river with a minimum flow rate of 200 cubic ft./sec, a drop or slope of 1.7 ft., and $200.000 for the original start up costs. After the initial investment, there are no on-going costs. There are no pumps, just the natural force of the river, making this a sustainable project. Best of all—like surfing in the ocean—it's free.
Notes from the Director Desiree Bilon
I was inspired by the Surf Anywhere story from the beginning. Here were these guys designing a wave on the Kananaskis River, 45 minutes from Calgary, and they were pursuing their dream from the funds they raised themselves. Plus, they were making the development plans open-source, so that they would available to anyone, anywhere for free.
I was already impressed, but it wasn't until I met the surfers that I knew I had to tell their story. I'd been surfing for 12 years and had never come across a community of surfers like this. Everyone was kind, supportive and encouraging. There was no localism, no animosity, and people took turns. The scene was always fun and friendly, very unlike anything I'd ever experienced ocean surfing.
If I had to say what river surfing means to me, I'd have to say it was passion (Jason McQuade)
I'd wanted to make a documentary for many years, but something always seemed to get in the way—time, money, and surfing. After I injured my leg and wasn't able to surf, I had more time and energy for writing, photography and film.
By the time I heard about the grant from STORYHIVE to produce a Digital Short, there wasn't much time left to submit a pitch—maybe 10 days. Even though I'd always worked well under the pressure of a deadline, I thought I might not make this one. With the help and support of Glenn Dixon and many of the surfers, I was able to turn my vision into a reality and hand the pitch in on time. The Surf Anywhere documentary wouldn't have happened without them.
STORYHIVE chose 15 winners in Alberta and I was one of them. I couldn't believe it. There was a Winner's Workshop in Edmonton that my brother Troy Bilon and I attended on December 6th, 2015. At the workshop, I met my mentor Ava Karvonen from NSI (National Screen Institute – Canada). Her feedback on this project was invaluable. After that, everything happened so fast.
River surfing, for me is meditation (Justin Gullickson)
Through this opportunity, I was able to become part of community of writers, producers and directors. This is how I connected with Carey Missler, another digital shorts competitor in British Columbia. Carey became our main cameraman and steadicam operator.
Some of the biggest challenges that came up during filming were the tight deadline—with only two months to produce the documentary and over the Christmas holidays; the cold temperatures; and the lack of daylight. But I'm not going to complain because all I had to do was film, whereas those guys were actually surfing.
With this film I wanted people to be able to experience what it is like to surf in an icy cold river in the middle of winter, while at the same time learning about the Surf Anywhere project. I wanted to capture these surfers in their element, and find out what river surfing means to them.
Surf Anywhere is my first film about river surfing, and surely not my last.
Main Characters
Neil Egsgard was born in Orillia, Ontario and is the regional manager for Carma Industries Inc, a wave builder, the founder of Surf Anywhere, and the President of the Alberta River Surfing Association (ARSA). He has been river surfing for 10 years.
Jacob Kelly Quinlan was born in Calgary, Alberta and is a river surf instructor/graphic designer. He has been river surfing for 10 years. He has travelled to more than 60 river waves around the world.
Justin Gullickson was born in Star City, Saskatchewan and is an audio video technician and an ambassador of Surf Anywhere. He has been surfing for 6 years.
Jason McQuade was born in Whitianga, New Zealand and is a surfboard shaper. He owns his own company called Wave Slayer Surfboards. He has been surfing in the ocean for 25 years and 5 years on rivers.
Desiree Bilon was born in Edmonton, Alberta and is now working as a documentary filmmaker. She has competed in surf contests internationally and has been ocean surfing for 12 years, and river surfing for one season.
Secondary Characters
Ben Murphy was born in Wollongong, Australia and works as a carpenter. He has been ocean surfing for 30 years and his first river surf was in 2001 in Munich. He is a professional surfer sponsored by Rip Curl, Lib Tech surfboards, and Spy Optics.
David Hernandez Cachero was born in Madrid, Spain and studied kinesiology. He works as a Canada Post mailman. He has been ocean surfing for 15 years and river surfing for 9.
Luciano Mariani was born in Calgary, Alberta but grew up in Chile. He works as a journeyman welder and an apprentice millwright. He has been river surfing for 5 years and ocean surfing for 3.
Robin Stolba was born in Marienbad, Czech Republic but grew up in Paris. Previously he was employed as a marine biologist. He has been surfing in the ocean for 15 years and river surfing for 1 year.
Tiffany Butler was born in Mayo, Quebec and works as a lawyer. She has been river surfing 1.5 years and skateboarding and snowboarding forever.
Mallory Chapman was born in Emerald Park, Saskatchewan, and is the owner of Studio Revolution (SURFSET Fitness Boutique). She has been surfing in the ocean for 8 years and in the river for one season.
Julia Barnes was born in Bratislava, Slovakia and is a stay-at-home mom and the owner/designer of Honubelle swimwear. She has been ocean surfing for 6 years, and in the river for one season.
Peron Desnoyers was born in Calgary, Alberta but grew up in Langley BC. He works as a Customer Service Supervisor 36 years old. He has been river surfing for 2 years.
Tristan Gaudet was born in Lac La Biche, Alberta and works as a cabinet installer and as a surfboard shaper. He has been river surfing for 2 years.
Key Production Personell
Desiree Bilon
Director producer and writer
Desiree Bilon is a writer, photographer and filmmaker. The first time she worked on set, she was a stand-in for Elle Macpherson during the filming of The Edge. From that point onward she was fascinated by the art of filmmaking and production. As a competitive surfer in 2012, Desiree was featured in two episodes of the Endorphin TV pilot in Mexico, but after sustaining a serious injury she moved back to Canada and won a scholarship from the Writers' Trust of Canada to study creative writing at Humber College. For the past two years she has also been working as a professional photographer. Her writing and photographs have been published in print and online magazines such as, Great Ocean Quarterly, Kurungabaa, LATER, Matador Network and Planeta Surf. Desiree's dream now is to inspire others with her films. Desiree received a STORYHIVE grant to produce her first short documentary, Surf Anywhere.
Glenn Dixon
Co-director, writer, editor, and music director
Glenn Dixon is a writer and documentary filmmaker. He has written for National Geographic magazine, the New York Post and many others. Glenn has published two books on adventure travel. His second book Tripping the World Fantastic, about music around the world, was shortlisted for the W.O. Mitchell award. He has traveled through more than 70 countries and has worked on films in Tibet, Guatemala and Jordan. His third book, Juliet's Answer, which takes place in Italy, will be released internationally by Simon and Schuster (2017).
Carey Missler
Principal photography
Carey Missler is an award winning film director, producer, writer and cinematographer. In April of 2015 he won the "Award of Excellence" for directing The Paddler Movie, at the Canada International Film Festival. Carey also won the 2015 "Spirit Award" at the Toronto International Beaches Film Festival. His last movie "The Canadian Surfer movie" received worldwide distribution and was broadcast around globally.
Contact