Stories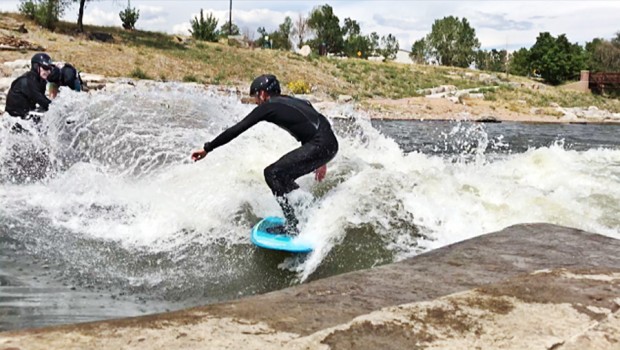 Published on February 7th, 2018 | by Jeff Gorton
Photo by Jeff Gorton | 
2
What Separates River Surfing From Ocean Surfing?
There's something about river surfing that separates it from ocean surfing. What started out as a novelty wave for curious ocean surfers, that found themselves landlocked, has grown into its own thriving sport.
Yes, River Surfing is still in its infancy and although I still get puzzled looks when I explain to people that I surf in the river, it is definitely growing in popularity. I grew up surfing on the Central Coast of California. After moving to Denver, Colorado and discovering that there was a park built specifically for surfing in the river, it didn't take long for me to get out there and give it a shot. Immediately after arriving to River Run Park in Denver, I realized that river surfing had a completely different culture than ocean surfing. Instead of the localism that often comes with certain breaks on the coast, at the river it was nothing but good vibes. When I started river surfing there was a small tribe of mostly ocean surfers that had transplanted to Denver. When they noticed a new face they welcomed me in, shared tips and even loaned me a spare board to spend my first couple hours face planting on.
The crowd is usually just as stoked as you are.
River surfing definitely has similarities to ocean surfing but it also has distinct differences. I have to admit being an ocean surfer, I thought I would just hop right on the river wave and start doing cutbacks. I quickly realized it was going to take some time to get the hang of. For starters on the Benihana's wave, you enter by jumping into the wave and landing on your board. This is by far the hardest part of learning to surf the wave. Another major difference is that in river surfing, the wave is stationary and the water is coming at you, this takes some getting used to as well. The best part of river surfing is once you are on the wave, you have it all to yourself for as long as you can keep your balance, something that rarely happens in the ocean. The crowd is usually just as stoked as you are and will often be there hooting, hollering and slapping their boards to acknowledge a good ride.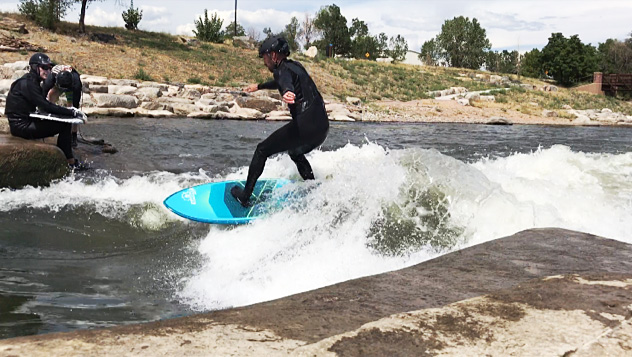 River Run Park: Benihana's Wave
A Vibrant Mix From All Different Backgrounds
In Colorado, there is a lot of excitement for the young sport of river surfing and I'd say it's off to a great start. The sport is growing rapidly as cities are putting money towards revitalizing their rivers and providing recreational opportunities for its residents. As the sport grows in popularity, I just hope it can remember it's roots and keep the positive vibe alive. The Denver river surfing crew is a mix of guys and girls from all different backgrounds. The backgrounds range from snowboarding, stand up paddling, wake boarding, skateboarding, kayaking and ocean surfing, with each bringing their own style to this awesome new sport we are all figuring out as we go. I think the diversity represented in the sport makes river surfing special as it borrows a little something from each.
I think the diversity represented in the sport makes river surfing special as it borrows a little something from each.
For me personally, coming from an ocean background, I knew very little about river etiquette and safety so that's where those with a whitewater SUP or kayaking background have really contributed to river surfing. Those with skateboarding, snowboarding and wake boarding have helped push the sport towards more progressive moves. Despite all the different recreational backgrounds represented in Denver's river surfing community, one thing is consistent and that is a shared passion for riding waves. Once you've felt the stoke of being able to surf in the river, it's much like riding your first wave in the ocean and it's highly addicting. If you ever find yourself in the  Denver area and want to give river surfing a shot, shoot a message on the Colorado River Surfers page on Facebook.  There will be plenty of people willing to introduce you to our little home break on the South Platte river.