Interviews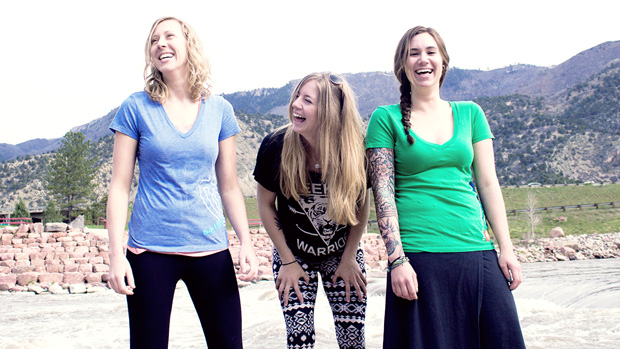 Published on May 5th, 2014 | by PhilB
Photo by Noel Worden | 
2
Can I Surf That - In the Search of the Perfect River Wave
Can I Surf that is a project composed of hungry river surfers and a creatively charged film crew fuelled by their passion for wild and wonderful rivers. In this film, Brittany, Heather and Claire will expose to the world the beauty, the intensity, the passion of surfing river waves. Their goal for this film is to take the viewers into the heart of their journey, immersing them in their river lifestyle and all the passion that comes with it. Let's hear what the girls from Can I Surf That have to say about their journey in search for the best river waves and their ideas behind it.
What exactly is "Can I Surf That" and why the name?
"Can I Surf That" is a film inspired by river surfing and the tight-knit community that stems from this shared passion. It's about our journey in search of the best river waves. We want to share this obsession with the world and show you what it is us river surfers are willing to go through to experience the sweet sensation of riding a wave. Also, we'll introduce the world to all the rad people we meet along the way.
Claire came up with the name for the film. Since we started river surfing the way we look at the river has changed fundamentally. It 's as if we have a surf filter on as we scan the river. Every hole, standing wave or ripple makes us question "Can I surf that?". Also, I think we each ask ourselves that question when we see a bigger, more intimidating waves, or maybe one that is difficult to access. It's a personal challenge. I think any avid river surfer and probably ocean surfers as well can relate to this.
What kind of surfing can we expect in your film?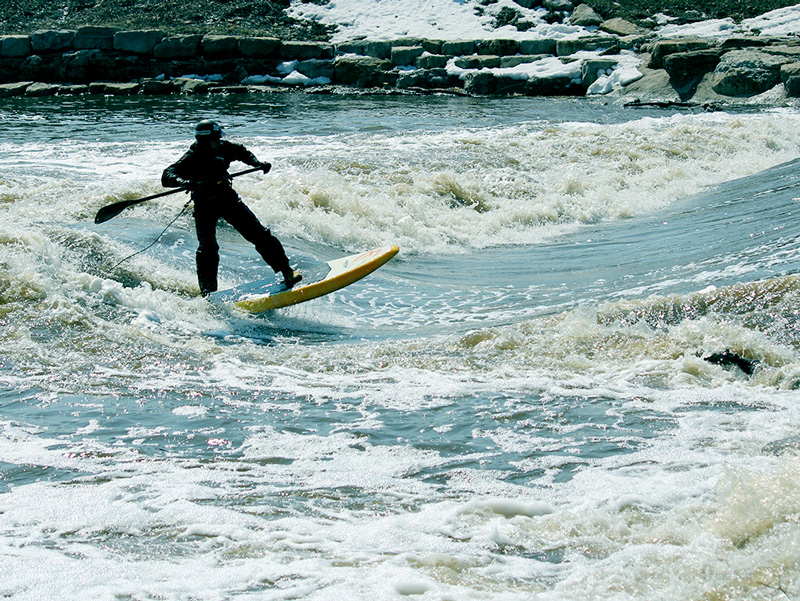 We are primarily SUP surfers. Having a paddle gives us a bit of an edge as far accessibility and ability to surf waves of all shapes and sizes and for long rides. But that doesn't mean the film will be limited to SUP surfing. There is an entire community of dedicated prone river surfers, such as the Strongwater crew, who are huge contributors to the sport. We want to show that even though our boards of choice are different there's still strong camaraderie between all of us, which we noticed is something that's harder to come by in the ocean surf community. I think we'd like to give the short board thing a try at some point on the journey.
What is your main motivation doing a film about river surfing and what is your goal with this film?
As women, we face many challenges in the athletic world. We've got to work extremely hard to get anywhere near the sort of support and attention that male athletes receive. We want this film to empower and inspire women to keep pushing the envelope, to exceed all expectations, and to encourage women to reach greatness. This isn't necessarily a women's specific film but there will be a lot of emphasis on the female surfers. There aren't enough women out there doing this and we want to change that.
Since we started river surfing the way we look at the river has changed fundamentally.
This sport is still pretty under ground. Every time we are out surfing you wouldn't believe how many people flock to the river banks taking photos, totally amazed. I would say the majority of the country/world have no idea that river surfing exists or is even possible. We want this film to expose the world to the sport and encourage its growth. We would feel hugely successful if the film were premiered in some of the major outdoor film festivals such as "Banff Mountain Film Festival".
What do you think will be the big challenges in making this film?
The biggest challenge is going to be getting to all of these waves at the right time. There are so many we want to hit and most of them are all in around the same time. We have a small window which requires covering a lot of distance in short periods, all while we balance the other responsibilities in our individual lives. With that said, we've picked the right year to do this. All our destinations had a killer Winter with MEGA snowpack so the waves will be alive longer than usual. We are ready!
Where will the journey take you?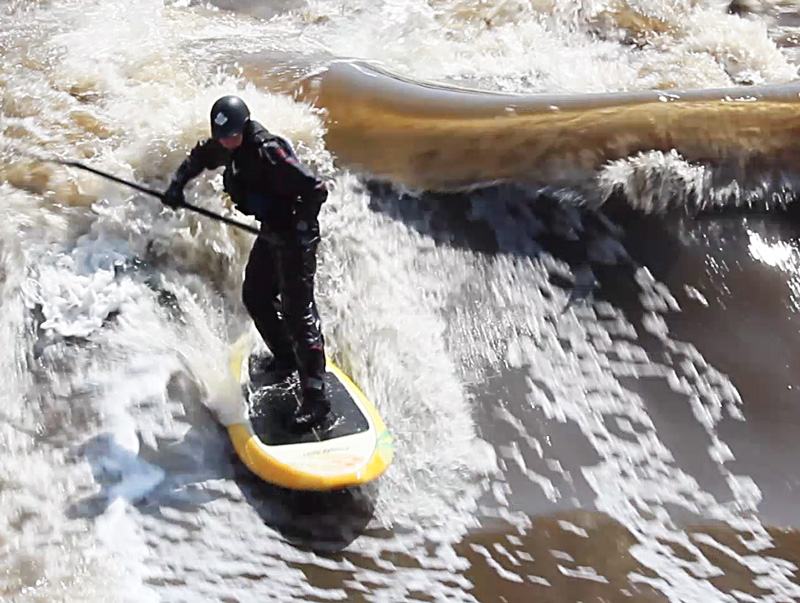 The three of us began our river life in Colorado so it only seems appropriate to begin the film here. Then we will be headed to Idaho, first for the Payette River Games, one of the few whitewater festivals with a river surfing comp. We will be spending some time in Idaho, hitting all of their juicy waves like Pipeline on the Lochsa and Gold's Hole on the Main Salmon. After Idaho we will be headed to Wyoming for Lunch Counter. Then up to British Columbia where we hope to tackle the beast that is the Skookumchuck wave. And then we are off to West Virginia, stopping at waves along the way. Also, if time and water allows, we are open to visiting other waves that don't take us too far off track, so if you think your local wave is a beauty or a beast, let us know. It's going to be an epic adventure!
How will you figure out and identify potential spots? Who's gonna support you during the project?
We've already got a list of spots we plan to hit and continue getting tips on waves from fellow surfers all over the country. We have a pretty heavy line up that will make for some incredible footage. The criteria mostly centers on size and shape. We are looking to surf large-volume, gorgeous standing waves. These are the waves you have to work for, the ones that blow your mind when you first carve across that huge face. And usually, the one that leave you pretty exhausted but fulfilled at the end of the day.
The biggest challenge is going to be getting to all of these waves at the right time.
We just launched our Kickstarter campaign to try to raise our goal amount of $6,000. Along with that we've got support from a number of sponsors such as the Payette River Games, Guerrilla Brewing Company, Badfish Stand Up Paddle, FCS Surf Technology, Nectar Sunglasses, and Jen-ai Apparel … to name a few. The response has been overwhelming and we are so grateful for the support.
How is the making of the film organised … are you planning a "one time trip" or filming occasionally? What is roughly the timeline for your project (start date, filming, finishing, planned release date)?
We have organized our traveling around the whitewater events. Competitions are a great way to get recognition and to promote so you'll find us at all the major events in between the wave-destinations. We've got a full calendar for the Summer and will be filming every step of the way beginning mid-May and ending around September. The premier will be scheduled tentatively for May of next year.
The river surfing scene is growing around the world … what do you think makes river surfing so special?
Besides how darn good it feels to be on a wave, the thing that pulled us in and hooked us was the community. We are all so close, it's like one big family who have been brought together by their love for rivers and surfing. It hasn't gone to that place of extreme competitiveness yet, we all look out for each other, and we respect where everyone is in there abilities. Aggression is something that's just not tolerated in the river community.
Aggression is something that's just not tolerated in the river community.
We also love the idea of bringing a bit of the magic of ocean surfing inland. Audiences have been captivated by slow motion carves on gorgeous ocean waves for decades and we think there is some of that same beauty, power, and grace to offer from some of these spectacular river waves. The river comes with a bit of a different vibe, different dangers, different muscle memory to learn, but overall we're all standing on a board, connecting with the water.
Anything else you would like to pass on to our readers?
We have put our heart and soul into this project. The positive response and support we have received is extremely touching. We encourage anyone to contact us with any questions, ideas, or tips. Visit our website canisurfthat.com for our contact info, updates, and to follow us on our journey in search for the perfect wave. Thank you!!!
Now it's your turn … if you want to see these pioneers succeed, get out there and support Can I Surf That in chasing river waves at their Kickstarter campaign!