Interviews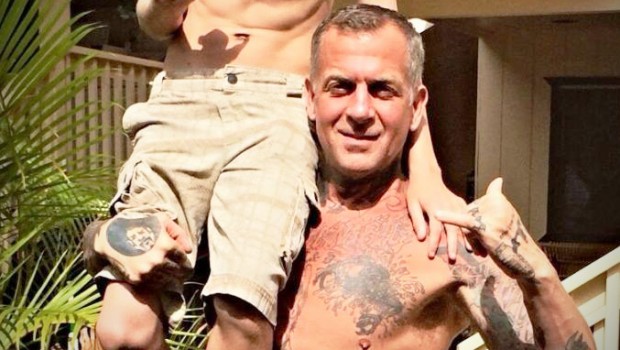 Published on June 15th, 2014 | by PhilB
Photo by Elijah Mack | 
0
Elijah Mack on the PRGs, River Surfing and his Principles of Life
Elijah Mack is the godfather of the rivers. He traveled the world for unsurfed river waves and is relentlessly promoting what we love most: river surfing. In this unique interview with Riverbreak, Eli shares his ideals and principles on river surfing and life, and he also talks with us about the importance of the PRGs for the future of our sport. If you are really into river surfing, take your time and enjoy reading this extensive interview.
Eli, you're on of the godfathers of river surfing, you surfed over 200 river waves around the globe when river surfing was still in its infancy. How has river surfing changed over the last couple of years? What is your own personal view of the historical development of river surfing?
So, for me my own view of river surfing in a chronological order started with Dieter and the Pauli brothers in Munich. At the same time there was a number of people surfing the Lunch Counter Wave in Wyoming – they have been riding this wave since the late 70s and early 80s. There has also been people river surfing in Austria for a number of years before I started. Those were the three places where river surfing was born. Before I came along in 1997, I don't think anybody had that kind of broad spectrum view that I had. And the reason I had that view is that I came from such a deep ocean surfing background and one day I had an epiphany that these waves are all over the world and not just in Munich, Wyoming and Austria. That's what inspired me to search for river waves.
Back then, from the WRSA sprang up a number of different associations but really the Alberta River Surfing Association (ARSA) was the one that carried the WRSA torch. And that really changed things and the WRSA & the ARSA kind of grew together; ARSA creating a world wide hub for river surfers and me searching for waves and voicing my opinion on the future of surfing, not just river surfing but surfing and trying my best to emancipate the sport of river surfing from ocean surfing. I didn't want it to be like ocean surfing, I wanted it to remain inclusive for all people. ARSA really did the best job when it came to defining the terms "community" & "inclusive" for our sport.
I wanted river surfing to remain inclusive for all people.
I didn't want ego or localism. I think there has been a lot of misconceptions about who I am. The main thing about me is I grew up in a place in the 1980s that was very much like Long Beach California – there was gangs, there was a lot of murders, there was a lot of crime and so for me to see this localism in the ocean never made sense to me. I went to the ocean to escape all the craziness I was experiencing on land. The way surfers acted seemed spoiled and childish. So to see the localism and fights in the ocean seemed stupid to me, as I was experiencing real violence in my city. I just didn't have the stomach for it (negative behavior in the water). I did not want that to happen on the rivers. As I promoted the sport all I really tried to advocate was a positive approach to sharing waves. I really focused on safety and on an open minded paradigm. It was hard at first because so many people were down on the sport and I was still really rough and the edges. People would disrespect the sport or me personally and I was ready to jump on a plane and fly across the world to meet them face to face. Things got worse before they got better. But I evolved spiritually and the sport started to get the respect it deserved.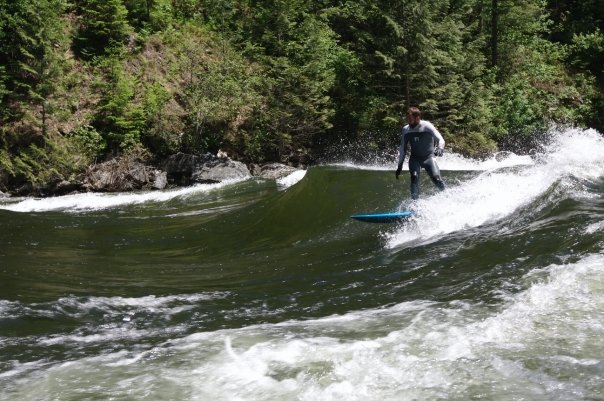 In the last 10 years the Munich guys went from being this underground surf culture to actually having guys that surf as good as Kelly Slater … they are full blown world class athletes. They now are respected world wide. Then in 2012 America started to wake up. Strongwater in Missoula proved that river surfing was taking off in the states. Their contribution to the sport has been building and selling surfboards. They have a surf shop, they have a wave in town and the sport is just blossoming there. And then there is Boise, Idaho with McLaughlin Whitewater building the wave shaper there. Now Boise is running wild too.
But what really has set river surfing on its head was the creation of Kelly's Whitewater Park and The Payette River Games (PRGs), created by Mark and Kristina Pickard. They along with Jeffrey Banks make up the board of directors of Kelly's Whitewater Park. They built Kelly's to give an economic stimulus to the town of Cascade and this year they brought river surfing into the PRGs. It is a giant dose of adrenaline for our sport. They have really legitimized our sport and given it a platform for the whole world to see. And they have created for us (river surfers) this incredible international gathering at the PRGs. The PRGs are really connecting all the pieces for our sport.
How did the idea came up to include river surfing in the PRGS 2014 and how did it all develop?
I took a river surfing trip this summer and ran into a guy who I'd met years ago river surfing the 36 Street Wave – now where the new wave shaper is in Boise, there used to be a really good wave there at high water. I surfed that wave about eight years ago with Mike Voorhees' son Alec who is now a championship kayaker. Well, we ran into each other and I said to him, hey this would be a great place to have a river surfing contest … well, Boise wasn't really receptive to it at that time.
The key of the PRGs is showcasing the very best river surfers the world has to offer.
A week and a half later he called me and asked me if I was interested in developing a contest with the PRGs. An introduction was made and it was a good fit. My ideas fit well with Mark, Kristina and Jeff. At the start Mark, Kristina and Jeff had planned on putting up 25,000 USD as a purse for the contest. I was blown away by that number, river surfing is still in its infancy. It was an incredible idea but I figured nobody from Europe would fly over for that. Nobody has sponsors, there is no industry in our sport yet so we would be lacking the best river surfers in the world. In North America, there is nobody of the calibers of the Munich surfers. I also was worried that only pro ocean surfers would be the only people showing up for the big prize money and that didn't seem fair to the river surfing community. So I developed a proposal that had a number of things in it; the key parts of it were to bring seven river surfers from Munich and Derek Rabelo from Brazil. The key being showcasing the very best river surfers the world has to offer right now and also proving my theory that river waves are like braille for sight-impaired surfers.
There were other parts to that proposal, like including The Surf Anywhere Project, but in a nutshell it's the Munich guys and it's Derek Rebelo from Brazil. And Mark, Kristina and Jeff went for it. To be honest I have been pretty stressed out during the planning of it all but now with one week to go before the event I feel pretty good. Ask me how I feel on June 23rd.
What kind of river surfers would you urge to register for the PRGs? What riders are to be expected at the games?
We wanted to make the PRGs really inclusive. We have the Elite class in which the Munich river surfers will compete along with any pro-ocean surfer – they have to enter the Elite class too. And everyone else who wants to, can enter the Elite class. We also have an Open class which is for surfers kind of my caliber and the Novice class which is for people who can just stand up. If you can stand up, you can enter this class.
At the beginning I was opposed to the competition but then I realized that it was actually a great idea. Competition with a good spirit is a wonderful thing. So we have these three classes to keep it inclusive for anybody – really everybody is welcome to enter.
At the beginning I was opposed to the competition but then I realized that it was actually a great idea.
The other amazing part if the event is that it is not gender biased in it's distribution of the prize money. Equal prize money for female & male divisions. That is very rare in all sports but even more rare in the male dominated sport of surfing. I personally have built my life and my family values based on equality for ALL human beings. Water is feminine. The park was inspired by and named in honor of Kristina's big sister Kelly, who was a true force of nature by any ones terms, female or male. I personally think the world would be a much better place if women were running the show. And the fact that I was raised by single hard working highly intelligent nurse who busted her ass for me … Im all about the equal prize money. It's about respect. If anyone has read The 7 Habits of Highly Effective People, they will understand the difference between "Principle of Character" & "Principle of Personality". This event is based on the "Principle of Character" and that means a lot to me.
What do you expect from the event and what is your role in it?
My role really is to bring the kind of ideas to the event that I thought would benefit the PRGs and the river surfing community as a whole. I'm a really a hands-on person, I don't do well with e-mails, I don't do texting. I like to be in person, that's why I'm a really successful barber and educator in that hair care field. So my role was to develop innovative ideas for the event and then to be there hands on to see them to fruition. I'm gonna be the ambassador and help oversee it, keep everything going in a positive and cohesive manner. I want everybody there to know what Aloha feels like. That's what the event is to me, spreading the Aloha spirit. The spirit of river surfing.
For the first time in the history of our sport, the world's best river surfers will meet in one single place … which of the invited athletes have already confirmed to be coming to the PRGs?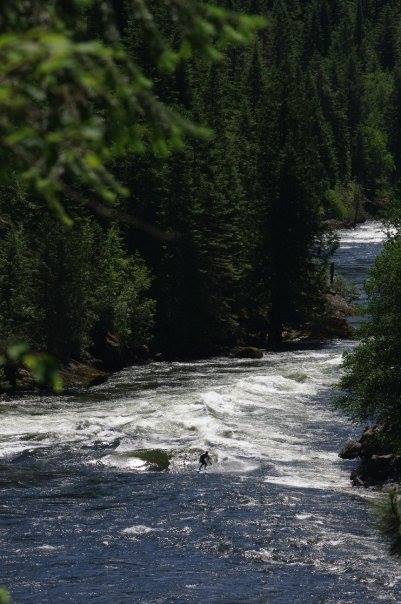 Well, we invited people from the US, Brazil and Europe. We have Chris Peterson (USA), he is the poster-man for Idaho river surfing and was one of the first river surfers surfing at Kelly's. He has really put Idaho river surfing on the map by searching for river waves and documenting them beautifully on both video and film. He also was an integral part in the early development of Strongwater surfboards and now is building his own boards under the label "Peterson Surfboards". And we also have a gentleman named David Allan who is an amazing surfer, essentially the true local at Kelly's and the first person to ever ride Kelly's. Having such a deep connection to San Francisco and big wave surfing out there and Northern California I've talked to a number of my friends and they know David – he's a legend on the North and Central Coast. Then we have Alexander Cabral who was one of the very first river surfers in Columbus, Georgia. I'm really excited to bring him out … he is not just a surfer but a decorated army ranger and a wonderful example of the aloha spirit. We are bringing Joshua Slockner, who was paralyzed at the age of 20. Now at 34 years of age he will surf again for the first time since the accident. He is a the true spirit of perseverance. Then there is Derek Rabelo, a blind surfer from Brazil and his father Ernesto Rabelo who is an amazing surfer also. We are beyond excited about that.
I gave Paul the helmet I used the first time rode Tubesteak Wave at Skookumchuck.
And then we have the Munich surfers, we are bringing Bjoern Richie Lob who is a strong surfer in his own right – he surfs about the level that I surf at. Bjoern is the Bruce Brown of our sport, his film "Keep Surfing" is "The Endless Summer" of our sport. He will be filming a follow up to Keep Surfing. Then we have Flo Kummer. The things he does on waves is ridiculous. We also invited Gerry Schlegel, 2012 European Champion in stationary wave riding, who is the most fluid and smooth stylish river surfer to ever grace the Earth. And we have Tao Schirrmacher, who may be the best all around river surfer in the world right now. We invited Valerie Schlieper (Vale), she's an amazing river surfer from Munich also. And we have Paul Günther who, when I went over to Munich, was just a young kid. I actually gave him the helmet I used the first time I attempted to ride Tubesteak Wave at Skookumchuck Narrows … so I left my helmet with him because he was such a great young man and I wanted him to be inspired to travel and search. Then we have Matthias, who is the best long board river surfer ever in the world and a world class skier to boot.
These invited athletes are all confirmed to be coming. And then we've a ton of other people registering to come and surf at the event. I've also been working really hard the past month in the Southern California surf industry to solicit some top pro-surfers to have them come out and there has been a lot of interest.
So you think some guys from Southern California will show up too?
Yeah, I sure do.
That's cool! So probably many of them have never surfed a river wave before, right?
That is correct. I'm hoping that Rob Machado would come out. My business partner and best friend Louie Hayward is really good friends with him and actually, the first baseball and soccer teams I played on, Machado's parents were my coaches, so there's a deep connection there and Rob loves river surfing – He's someone I really would like to see come out. Louie and I both know Donavon Frankenreiter, and we're hoping that he will come, it's really hard, all these guys have really tight schedules, and you know, they're free surfers, they play music etc. Nailing them down is difficult. So we will see.
Let's talk a little about the wave at the PRGs. How would you describe Kelly's Wave? What are the characteristics and what do you think the wave will be like at the contest?
So we're hoping that we're going to get 3,000 cfs, and at that level the wave is an amazing, curly, right-handed wave. It doesn't barrel but it has a very barrelling dynamic shape to it. It's a wedge, and it's just a highly rippable wave, just super high performance. Kelly's is a right-hander and curls back into the white water foam pile – as I said, super high performance, a highly rippable wave, I can't wait to see what everybody's gonna do on that wave.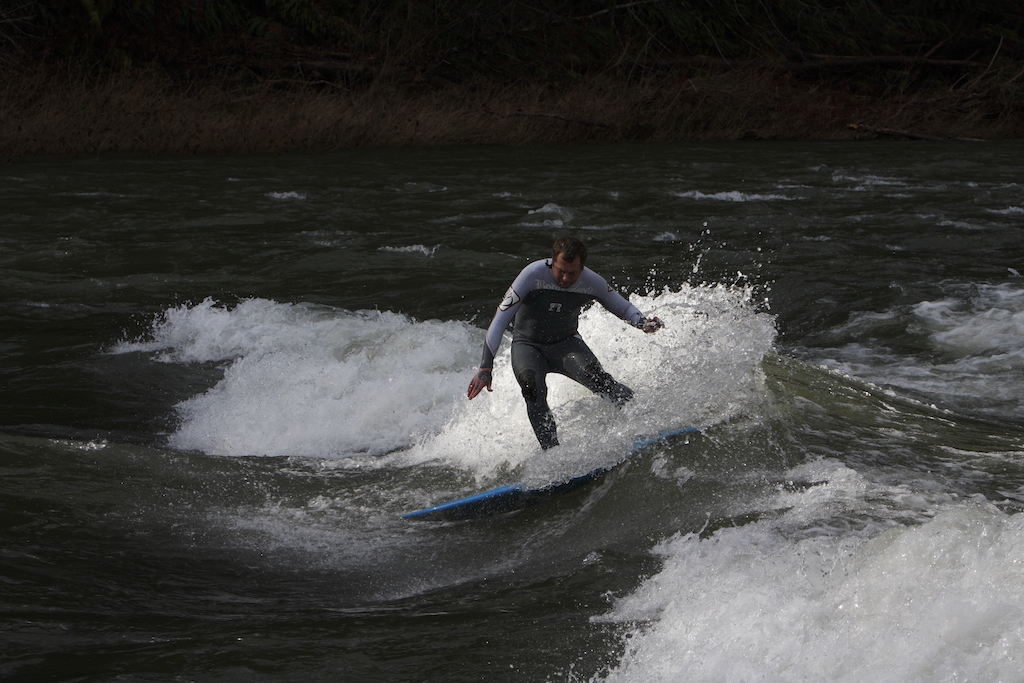 You know, Mark and Kristina, it's so cool, they're total mavericks, they're really cool people and just down to earth and they do things and get it done. There's so much BS in the world now, there's so much bureaucracy, so much red tape that gets in the way. They came and they built the best wave park in the world. To me it's one of the very best waves when its at 3,000cfs and above. There's also three other waves there at Kelly's. There's a little beginner wave, there's another small wave and there's the back wave. I've heard at really high levels the back wave will barrel. Not at 3,000 but at about 7,000 cfs which almost never happens.
When you see the park, it the most incredible sand volleyball court, it has rolling grass knolls, basketball hoops, an amazing visitor centre … they built the sickest little surf/beach arena on earth, so it's gonna be amazing for all us river surfers to go to this place. To see how whitewater parks should be built.
 They built the best river park with the sickest wave going.
The thing that I've been saying since 2002 is that river surfing is the future, that these waves are everywhere natually on rivers, but I also made it very clear that the sport would not grow unless we started to build these waves correctly for surfers. That's what Mark and Kristina did. They built the best river park with the sickest wave going, and they just went and did it, on their own – how do you quantify that? How can you thank somebody for that? How can you really tell them? The way I hope we all thank them is by really being grateful and putting on our A game for the PRGs. If it wasn't for this event, we would still be about ten years out. I hope everybody understands that, I hope the whole world understands that if it wasn't for the PRGs, river surfing would still have about another ten years before it would get where it will be on June 23rd. I've been talking to Quicksilver though my best friend Lou Hayward, Lou and I have also been talking to Quicksilver resorts. VANS has reached out to me, VANS wants to come and film river surfing now – it's all taking off and the PRG event is the epicentre, it is the point of power for everything to go forward.
This sounds like river surfing really has a bright future. Where do you see see river surfing in ten years from now?
I want to see river surfing spread across the world, with the implementation of river waves. So either building waves directly into the bed form of the river and dealing with fluctuating cfs, which is great, but, I've also started talking with McLaughlin Whitewater. They've talking to me about implementing my wave design theories which are based in sacred geometry and more essentially something called the "Torus" which is a geometric shape that is the underlying fabric of the whole universe, it's a wave shape. So they've not only been considering bringing me on to implement that, they also see the worth in my ideas on how to develop new surfing markets in the inland areas of the world. I don't want to make money off building waves, I want to create whole new market places around the world and make money in those markets. The only way we can do that though, is to build waves and that's what I've been trying to convince people of – that the money is not in the building of the waves, the money is in the development of the markets that will grow around the waves. You know that movie about baseball, "Field of Dreams"? – "If you build it, they will come"? I've been proven right by Boise and Missoula – it is happening!
So in ten years, I would like to see municipalities building waves all across the world, perfect waves for surfing. And it's here! Because McLaughlin now believes me and their paradigm is switching from building for kayaks to building these waves for surfers. The river surfing world should really be grateful to Ben Neilson at MWD, he is a surfer and it has been his vison to build waves for surfers, if it wasn't for him MWD would be talking to me or thinking about river surfing at this point in time. He is a huge and unsung hero to our sport.
I would like to see municipalities building surfable river waves all across the world.
I do have some big issues though at this point. You know, safety is a big concern for me. I'm a father of four sons, my wife is a nurse, I grew up surfing big waves, I used to be a wild land fire fighter, used to be a motorcycle messenger, used to work as a bouncer at night clubs … all of these jobs and activities require sound judgment on risk management and even within my barbering career it's all about sanitation protocol and keeping the safety and health of my clients at the forefront of what I do. So it's important to me that we have leaders that put out a positive message and show the world that we need to drive the sport in a positive and safe direction – building awareness on the protocols to keep kids save in the water. It's a pretty simplistic plan, you know, it's so funny to me that big giant things are usually simple things if you step back and look at them. So in ten years I hope that we're well beyond 500,000 river surfers around the world, maybe a million, I hope a million or more. I believe within 20 years there'll be more surfers inland on rivers than there will be surfers at the ocean.
Perfect waves for river surfing all over the place … can't think of anything sicker! So you think that commercialisation is part of the progress, right?
Yes, of course. Commercialisation is a part of progress for almost anything except for a spiritual journey and then again understanding that money is not bad, the attachment to money is bad, so I guess commercialism is even a part of one's spiritual journey. For anything in the world to grow there has to be money at this point. If we're looking for any type of growth in a sport or anything like that, there has to be money. Why is anybody going to build waves for people to ride if there's no return? Why build boards if nobody will buy them? That's just the way the world works.
Hopefully with proper leadership though, we won't go the same way that the three big board sports have gone with all this ego and Hollywood fashion and jackass type stuff. The movie Jackass is a perfect example of what I don't want my kids to emulate and what I don't feel river surfing is about…I don't think it is what surfing is about. I'm all tatted up and may look like the Jackass crew … but in fact, I'm kind of a Brady Bunch type of guy: My house is decorated really nice, I have four kids, they're all good students, my wife is a nurse, I mean she's never done a single drug in her life, she rarely drinks, she's straight laced … I look kind of gnarly and I have this reputation that I don't think is always totally deserved.
I want our sport to have respect and I want people to treat it with respect.
I want our sport to have respect and I want people to treat it with respect and I want us to treat the outside world with respect. I want us to be like my great uncles, watermen who were drivin by passion for the water instead of the pursuit of fame. Once you get into commercialisation it becomes hard. Ego gets involved, money gets involved, fame gets involved. I'm just hoping, with the proper leadership, that the paradigm that we will develop a spirit more than a sport. We need voices that put safety and content of character above profits and fashion. Maybe I'm a dreamer or an idealist or just a jackass? Thoughts are things, so my thoughts will be focused on what we should be and not what we shouldn't be.
One of the voices to give our sport this positive direction could be the World River Surfing Association (WRSA). What should the role of the WRSA be in this progress?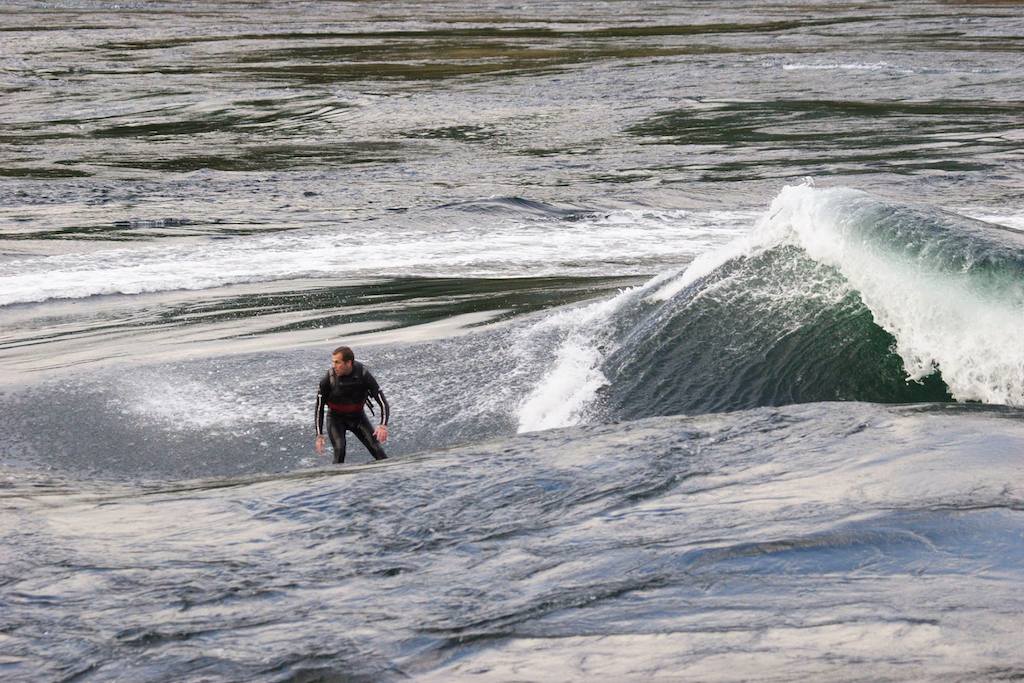 The funniest thing about the WRSA – the World River Surfing Association – is that I ended up homeless in Eugene, Oregon, in 2001 and along with starting my barber shop, I started the WRSA. Now all that was, was me at a computer, uploading photos … and actually back then you didn't have the drag & paste websites, so I hired some kids at the University of Oregon to build me a website. And basically, the WRSA said, "the future of surfing is near, it's nowhere near the ocean, and we don't ever wear leashes, you always wear a helmet, you always wear a life vest". It was very basic and I put up a thing where people could sign up and be a part of it. That was it. I stopped upkeep on the WRSA back in 2006 or 2007. I am not cut out for that … I don't like running a website or anything like that. I would much rather shape surfboards or cut hair or anything that I can do with my hands. Neil Egsgard and Jacob Kelly or someone like you Phil are cut out for river surfing associations and running websites. I mean Neil is friggin rocket scientist. Im not kidding the guy was gonna be a quantum theory physicist or some crazy thing like that. I could do it if I had an assistant to help get everything from my head to paper. Like with wave design. My theories are solid but I need Ben Nielson & Rick McLaughlin to help me get them from my head to the river.
The role of river surfing associations is to give the sport a voice, direction and guidance.
So the role of river surfing associations is to give the sport a voice and to give it direction and give it guidance and that's what I did at the start. But the only guidance I needed to do then was just to say "hey, it's here. These waves are here, go look for them, go search, be a pioneer!" So as for right now, the WRSA is completely defunct. So someone like you or Jacob or Neil or someone with the really sound insight combined with the right kind of skill sets will led the future though RSA's. It's people like you guys that really lead our sport way beyond anything that I ever did.
I am now focusing on the commercial part, I'm focusing on developing a board brand and a clothing line and you know, I'm 43 years of age and I don't want to work as a barber for the rest of my life and I hope that by starting a commercial enterprise I can give our emerging industry a positive voice.
That leads me to my last question: Where do you see yourself in five or ten years in terms of river surfing?
I will be living somewhere in Idaho. Idaho has the very best river waves in the USA and it is just an amazing place. I enjoy living out in the middle of nowhere. I will own a factory that creates really eco-friendly boards, there's a lot of ecologically-friendly processes for building boards right now and nobody is doing it. Maybe 2% of the surfboards built in the world are built with these new technologies. Its really sad. If we really want to be different and to be something better than what has happened at the ocean, then we need to start by building better boards that are not so damaging to the environment.
I'm focusing on developing a board brand and a clothing line.
I will be working with McLaughlin Whitewater and designing wave parks and I will be sharing waves with my wife and sons. Out in the country …, in love …, making river surf boards …, still travelling around the world searching for waves. I'm a pretty simple guy – it's a pretty simple thing for me. If I can get up and go surfing every day, go to work and come home and be around my sons and be with my wife – that's money for me, that's the life! So in ten years, I will be 53 years of age, making surf boards, making love to my wife, making waves and making memories with my sons.
That really sounds like an amazing plan …
Yeah, and hopefully maybe have a couple of grandkids by that time. My older sons will be 27 and 29 at that time.
Thank you Phil and Riverbreak for taking the time to interview me. This is the first time I have been able to share my ideals and principles on river surfing and life. Thank you very much!
I am not going to list everyone I need to thank, as it would go on forever and I would feel bad if I left anyone out. I will thank my wife Meryl and my sons. Alec, Chance, Hurricane and Onyx. Without them I would have never turned my life around. I will thank Mike Vorhees for linking me up with the PRGs.
And I need to thank two men who have really been a true friends during the process of developing this event. Lou Hayward. You have been stood by me since we were kids and you never wavered in your belief in who I was and who I could be. Thank you brother! Jeff Banks. You are truly "core" and I am so blessed to call you my brother. There is a reason you are the BOSS!
And on behalf of the entire river surfing world I want to that Mark & Kristina Pickard for their faith and support in the "spirit" of river surfing.
I would like for all of us around the world to take a moment of silence to honor Kelly Brennan & Karen Maher. Two extremely strong and vibrant women who's lives were so impactful on the world that they still are moving mountains today … and rivers! :)
I am very grateful for river surfing. It changed my life and I hope it will change many other peoples lives.
Aloha
Elijah "BE" Mack