River Surfers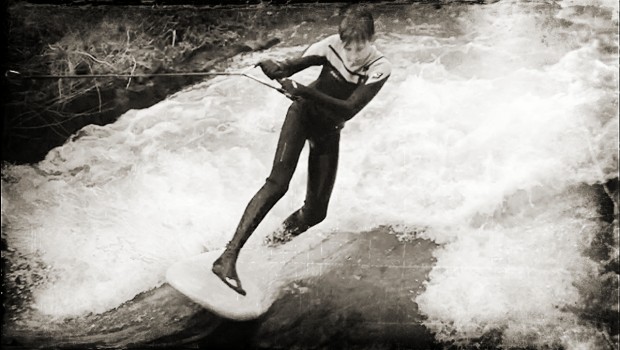 Published on March 23rd, 2016 | by Ben Anderson
Photo by Ben Anderson | 
0
Ben Anderson on River Surfing in South England
I am a 14 year old grom living in the South of England, in a small town called Swanage. It's right by the sea and my house is two minutes from the beach. I came across river surfing for the first time after watching a video on Facebook. It was a two minute long edit on the Eisbach Wave in Munich. After showing the clip to my mate, we took a map to check the local area for potential river waves. It turned out we found one at his grandma's house.
For me river surfing is a different sport than ocean surfing. I can't compare the two and simply say that one is better than the other, however I love the fact that in river surfing some things are more constant than in ocean surfing. You can have a lot longer rides and there is no need to wait for sets to come in. You fall off and then you can get straight back on the wave and try that turn or manoeuvre again. I feel it's a lot more progressive and has really helped me learn new turns.
I especially see potential for river surfing in the South of England.
In my local area there isn't an enormous surf culture. When we get a big swell there will be 10-15 guys out spread across a long beach. But half an hour drive away there is a large scene in Bournemouth. Despite this, I know of no one here who has tried river surfing except me and my friends.
We named the wave "Granny's" because of where it is.
I especially see potential for river surfing in the South of England. If we find more waves in this area I think the sport would grow in popularity, especially during the summer (we rarely get waves in the winter let alone summer). I think that there is a chance river surfing could become popular here, but for now it's just me and my mates.
Other than river surfing I love to ocean surf, obviously! That's where it all started for me and I love the ocean. I also sail in summer and skateboard (mostly downhill).
Get out and explore, you never know what's on your doorstep.
There are different people who inspire me in different parts of my life. First, there is my dad, he is so devoted to making my sister, mum and myself happy, he is incredibly selfless and I admire him for this. There is also my great uncle Keith, he flew helicopters in the navy, moved to Australia, competed in sailing races such as the Sydney-Hobart Race. In this race he and his crew stopped to help another boat that was in trouble — and this sacrificed their chance of a good finish but they helped fellow sailors in need. Today he runs a yacht charter company in Sydney called "Too Up".
I'm also inspired by pro surfer Jamie O'Brien (this one was a close call because I also love John John Florence and his surfing influences me greatly) but I adore Jamie for his lifestyle. He and his friends just have fun and I love that.
My message to everyone out there: Get out and explore, you never know what's on your doorstep, the hours of fun you may have, simply get outside and live your life.