River Surfers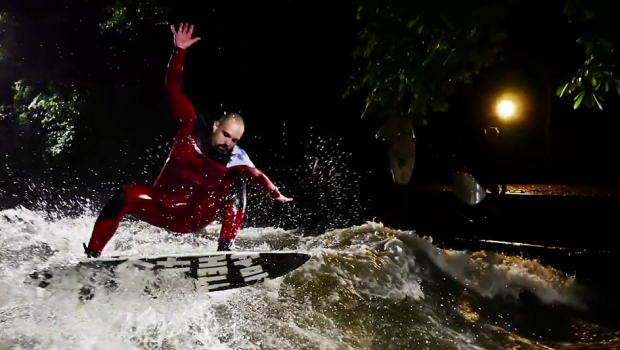 Published on May 27th, 2013 | by Börny
Photo by Nike / FUS | 
0
Flori Kummer
Skater, medical doctor, snowboarder, founder of the FUS Crew, teamrider for Fatum, creative artist and one of the most innovative river surfers in the world: This is Flo Kummer, a river surfer from Munich, Germany, born in 1977.
Flo started surfing at the age of 15 in Brasil and on the French atlantic coast. When he moved to Munich to study, Flo first came into contact with riversurfing at the Floßlände, but, already being a seasoned ocean surfer, soon made the transition to the Eisbach wave.
Flo keeps bringing skateboarding tricks into the world of river surfing.
A New Kind of Surf Style
Flo Kummer founded the FUS Crew, a group of dedicated river surfers looking for perfect river waves around the world and bringing tricks from the skateboard repertoire to river surfing. The German crew was also the surprise winner of the 2011 inaugural Nike Chosen Crew Video Contest, a competition of 1,700 skate, BMX and surf crews from around the world. The "FUS Jam", a competitive freestyle surf event in Munich with emphasis on fun and entertainment, is also a must-see for river surfers and everyone who is interested in the sport.
Flo's List of Achievements
1st place FUS Jam 2010
3rd place Sur f& Style 2010
1st place FUS Jam 2012
Video Flo Kummer
More about Flo
Browse through our photos, videos and stories to see more of Flo's surfing: Flo on Riverbreak