Spots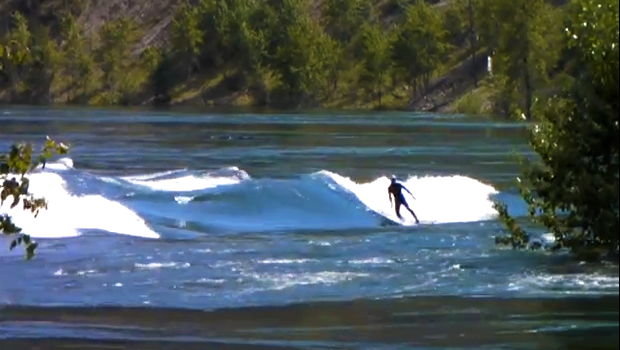 Published on March 27th, 2013 | by RB Team
Photo by Glen g woller @ YouTube | 
0
Industrial Hole
The elusive Industrial Hole only appears on years with a big snow pack and a fast melt, this is the best big wave in the mountains of south western Canada. The wave is also known as Industrial Wave or Trail Wave (different names depend on the water level).
Spot Details
Address
Trail, British Columbia, Canada, North America
Directions
Situated at Rock Island, 400 metres west (towards Trail) from the turnoff to the mall. Park in the turn out or take the dirt turn off towards the river at the bottom of the large hill.
River
Nearest City
GPS Coords
Latitude: 49.09288085
Longitude: -117.64818907
Wave Details
Conditions
Surfable between 8m and 11m. At 8.8m and lower you can catch the wave from the island and catch the island's eddy on the wave out. At 8.8m and lower the surfers right side of the feature becomes a very retentive hole as the level drops that hole becomes very dangerous.
Great at 10.2, amazing at 10.4 and still good at 10.5 (although a little flatter). Small and foamy at 8m.
Characteristics
Big green faced wave with foam pile on surfers left and green shoulder on surfers right. Easy to surf but difficult to catch.
Recommended for experienced surfers who are comfortable with a long paddle, small whirlpools and boils.
Dangers
The paddle out has some whirlpools. If you get caught, paddle with the spin to stay out of the centre. If you go down, hold onto your board.
Downstream and the far side of the river (surfers left) there are massive whirlpools apparently the size of houses. Don't go over there unless you're ready.
Tips
Long paddle out and back. Go upstream past the buoy and ride the current downstream. You will need to line up with a few points on the hills in the background to reliably catch the wave. Amazing surf once you're on.
Recommended board: 5'10″ river board.
Current Conditions
Trail, British Colombia Weather
Today
Monday

Snow

2°/0°

Snow

2°/-3°
More about Industrial Hole