Spots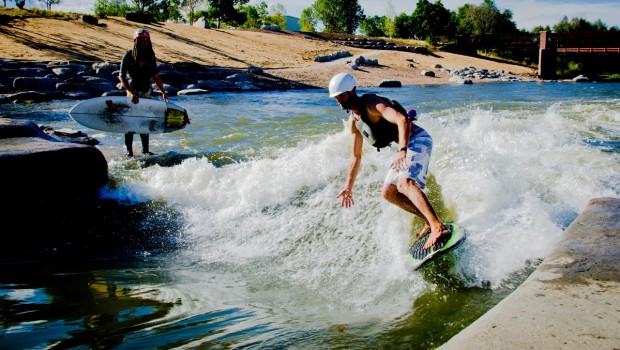 Published on December 8th, 2016 | by RB Team
Photo by Dan Mateer | 
0
River Run Park
River Run Park is located south of Denver, Colorado in the City of Sheridan. The upper wave (Benihanas) is for more advanced surfers, while the lower wave (Chiclets) is better for beginners. The waves are based on the WaveShaper technology that allows wave adjustment for different flows and skill levels. At good flow levels, the wave can turn into a high performance wave that is challenging, steep and fast. Ultimately RRP will host six river surfing waves at the end of 2018.

Spot Details
Country: USANearest town/city: Sheridan, Colorado (south of Denver)River: South PlatteAddress: 2301 W. Oxford Ave., Sheridan, Arapahoe County, Colorado 80110Directions: Park at the Broken Tee Golf CourseLatitude: 39.643014399343535Longitude: -105.01511871814728

Wave Details
Characteristics
Two waves, one for beginners (Chiclets) and one for more advanced surfers (Benihana's). Chiclets is a slower, smaller wave that is good for SUP, higher volume surfboards, and body boards. Benihana's is super smooth, fast and steep. You can SUP and body board this one too . If you're going to surf, board selection is key – nothing longer than 5'-0", can be very low volume 2"-2.5" thick, and width is an advantage (20"+ works well). The wave surfs like a miniature Boise or a more powerful Alm Canal (Salzburg, Austria). The water is so smooth and fast it feels like you are flying on the surface. Entry is best by an acid drop (suitcase drop) from one of the flat areas at each side of the wave. Prone and pop is possible but much more difficult.
Conditions
Benihanas: 130cfs; prime 175 cfs+
Chiclets: 60cfs+
Dangers
Typical river hazards. Waves work at very low flows so water can be shallow.
Tips
Wear a helmet and PFD.
Ride the right boards – works best on boards that are much smaller than those that work on other waves in Colorado and the U.S. If you don't have the right board, ask a local to try theirs – super friendly vibe at the wave.
Set up a flow alert for this wave.
River Gauge
Sheridan, Colorado (south of Denver) Weather Forecast
Today
Saturday
Sunday

Clear

10°/0°

Mostly Cloudy

14°/6°

Partly Cloudy

14°/6°
Spot Location
River Run Park Videos
Ben Nielsen Surfing at RRP
You know more about River Run Park?