Breaking News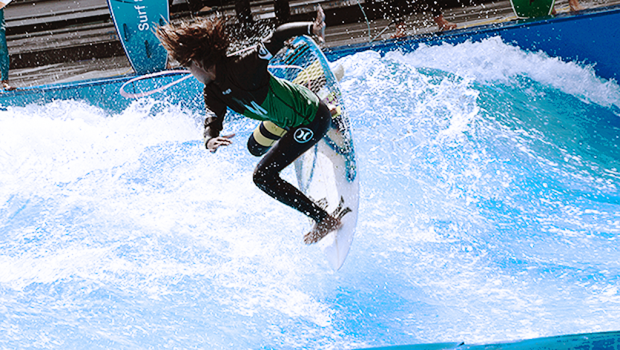 Published on August 7th, 2014 | by Jacob Kelly Quinlan
0
Surf & Style Warms Up
Surfers from all over Europe gathered today to warm up to the fast pumping Munich Airport wave. The jet stream of water is somewhat different from the waves most surf in the river. Most similar to the Eisbach wave, even the Munich locals need time to adjust to the City Wave designed feature. The wave offer 10 meters of steep face begging to be shredded to pieces.
Event Details
4th Annual Surf & Style European Championship
Price money: 10.000,- €
Date: August 09 & 10th 2014
Categories: Men's, Woman's, Masters, Groms.
Live Ticker: Live Ticker 2014
Today's training sessions was met with a love/hate relationship from the day's athletes. At this point the surfers are competing with the wave more than their peers. The wave, although very shreddable, is foreign to most and takes some "getting used to". Seeing the progression from the different communities in their first run to their sixth is exciting to think where a larger progression of standing wave riding can go.
We've really seen some incredible performances by the female riders. It's so great to see a competition where there are almost as many female competitors as there are men. We've really seen a progression from last year and to put it bluntly, the girls are rippin' like hell!!
Another exciting story to the event is the grom competitors traveling from Hawaii. Shane Beschen, Pro Surfer for over 20 years and Red Bull surf coach, brought out his sons Noah (13) and Koda (8). It's an incredible step forward for the sport of river surfing to see competitors from 12 different nationalities. But hosting ocean surfers from the birthplace of modern surfing here in the birthplace city of river surfing marks a milestone for our sport.
Stay tuned tomorrow for more hightlights and be sure to check us out on facebook for more up-to-the minute posts.
Live Ticker and Links
Minute-by-minute Ticker: https://twitter.com/NUARTsurfstuff
Daily updates, summaries, results, photos and videos: Riverbreak Ticker Summary
Videos: https://vimeo.com/nuartsurfstuff