Events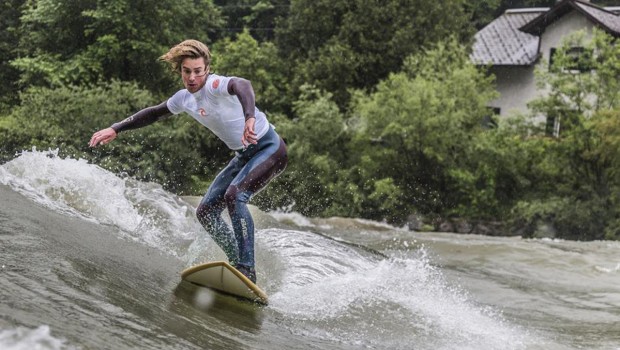 Published on May 30th, 2015 | by Max
Photo by Rivermates | 
0
2015 Crown of the Traun: Contest Results
Despite the gnarly weather the stoke-factor was at an all time high at the first ever river surfing contest in Bad Ischl, Upper Austria. The Crown of the Traun was a huge success with over 30 river surfers from Austria and Germany who battled it out on the river Traun.
The line-up saw some of the most talented river surfers fighting for the title for more than 4 hours, sometimes accompanied by heavy rainfall. After all, Lukas Haigermoser came out first in the men's and Christina Minimayr in the women's final. The contest was held on 23 May 2015 and organised by the local river surf association Rivermates (Salzkammergut) and supported by the Austrian Water Rescue Federation (ÖWR).
Contest Impressions
All Results
Here is the complete list of winners of the 2015 CROWN OF THE TRAUN contest. Huge congrats to everyone who participated in this competition and to the organisers for putting up such an awesome event.
Men Finals
Lukas Haigermoser 11.80
Daniel Schur 11.68
Manuel Burger 9.98
Steve Ratzisberger 9.54
Kevin Smolle 8.06
Men Qualification
Vincent Loidl 8.26
Vincent Gecmen-Waldek 7.44
Forian Meunier 6.82
Johannes Peter 5.66
Sebastian Fischer 5.36
Andreas Krüger 5.06
Michael Steinlesberger 4.92
Daniel Pichlmüller 4.44
Thomas Schmidsberger 4.26
Mario Hornung 4.16
Fabian Jesacher 3.34
Martin Bruch 2.96
Martin Oberleitner 1.64
Brad Phelan 1.22
Christoph Fessl 0.14
Stefan Gennuso 0.14
Women Finals
Christina Minimayr 7.44
Eva Loach 4.18
Katja Rittmann 3.02
Meli Höcketstaller 2.82
Lena Ramsauer 2.12
Specials
Shortest Ride: Chris Fessl
Worst Wipe-Out: Lena Ramsauer
Best Trick: Vincent Loidl
Photos: Max Eisl/markt36.at
More Photos
Contest Video