Events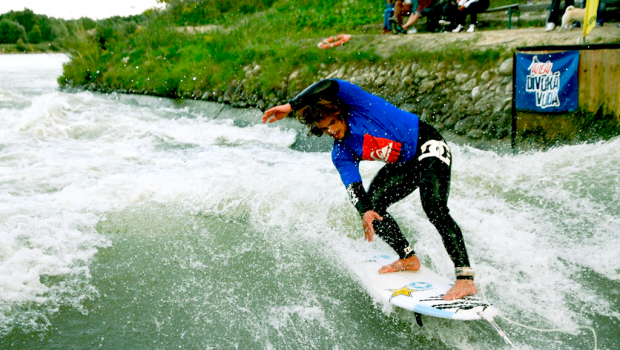 Published on September 29th, 2013 | by RB Team
Photo by Lulla / Boardlife.sk | 
0
Results Riversmash 2013
River surfers from Slovakia, Switzerland, Germany and Austria converged this weekend for the Slovak Open Riversmash Contest near Bratislava. The one day event was held under great weather conditions on Saturday 28 September 2013 at the Cunovo Wave. Under the watchful eyes of the judges national and international top rider battled hard for the price money of € 1.500 and a custom made river surfboard sponsored by Demon Surfboards.

After the successful Slovak Open 2012, Boardlife invited all river surfers  to this year's Riversmash at the white water park in Cunovo. In the finals, German and Austrian riders ultimately walked away with the titles. Besides international guest riders, a decent number of Slovak river surfers competed in the contest: Ondro Hrnčirík, Ohera Martin, Joseph Vengloš, Marek Carnival, Vlado Petr, Michal Suster, Martín Palásek, Michal Zurek, Mirco Káčer, Robo Jedlicka, Erik Šajda, Peter Manka, Maros Nemec, Erik Bútora.
Final Results
The contested men's final saw four excellent riders from Germany and Slovakia, with Jan Vogt (GER) finally snatching the win. In the women's finals, river surfers from Austria, Slovakia and Germany battled hard to ultimately see Kathrin Gappmayr walking away with the title.
Results Men
Jan Vogt (GER)
Steve Ratzisberger (GER)
Maros Nemec (SVK)
Ondrej Hrnčiřík (SVK)
Results Women
Kathrin Gappmayr (AUT)
Karina Rankine (GER)
Michaela Kančevová (SVK)
Sasha Cisárová (SVK)

Photos Riversmash 2013
Video Riversmash 2013
More on the Event
The event was sponsored and supported by Quicksilver, Surfkemp.sk, Boardlife and Riverbreak. Thanks to the hard work of all Slovak organisers to make this awesome event happen. Check for photos and a full report (in Slovak): Boardlife.sk