Events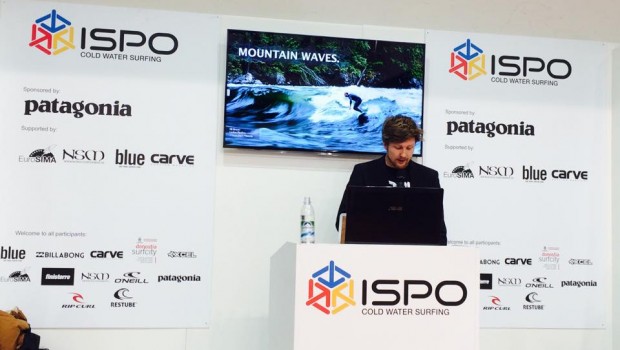 Published on February 8th, 2015 | by Max
1
River Surfing at the ISPO 2015
This year the ISPO 2015 (International Sports Trade Show) launched a B2B Cold Water Surfing Platform, including a detailed presentation about the sport of river surfing. Benjamin Di-Qual, founder of the River Wave Forum, gave a 30 minute speech on "The Rise of River Surfing". The surfing industry has finally gotten a glimpse into our sport.
In his presentation, Ben talked about river surfing's history, status quo, a future outlook and the need for special river surfing gear. This was the first time that the interested public and major players in the surf industry (Rip Curl, Xcel and others) received an official presentation on the potential of our sport. The growing recognition of river surfing by the surf industry is a big step for our community. A huge shout out to everyone involved in preparing and giving this presentation in Munich.
More on Cold Water Surfing at the ISPO 2015
At the ISPO MUNICH 2015 International Sports trade show, EuroSIMA and Ispo have teamed up to offer the very first B2B platform dedicated to Cold Water Surfing. Billabong, EuroSIMA, Finisterre, Fomento, Holysport, O'Neill Wetsuits, Patagonia, Restube, Rip Curl, Xcel all presented their latest innovations. More on the platform and the topics at the official site on Cold Water Surfing at the ISPO 2015.