Spots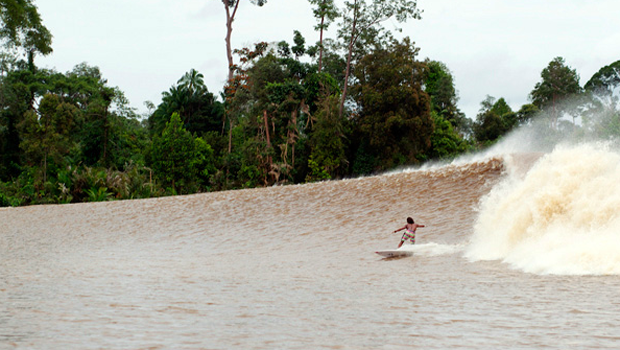 Published on March 10th, 2013 | by RB Team
Photo by bonosurf.com | 
2
Bono / Seven Ghosts
The tidal bore "Bono" (or "Seven Ghosts", named after a surf movie about the bore), is a famous surf spot in Sumatra, Indonesia. The wave in the Kampar River can rise up to 10 feet and travel up to 50 kilometers — in theory you can ride this beast more than one hour.
Spot Details
Address
Directions
There is one flight per day from Kuala Lumpur to Pekanbaru (PKU) in Central Sumatra and then the Bus to Teluk Meranti (7hr drive). Alternatively fly to Singapore and take the ferry to Sekupang on Bantam Island (45min), then the speedboat from Sekupang to Tanjung Batu on Kundur Island (2hrs) then the daily speedboat from Tanjung Batu to Teluk Meranti (3-4 hrs). Good luck.
River
Nearest City
GPS Coords
Latitude: 0.2636709
Longitude: 102.7249146
Wave Details
Conditions
Bore riding happens 4-5 hrs per day between 9am and 4pm.
Characteristics
8-10ft face
glassy walls
barreling momentum for 10-15 minutes
50km rides possible
current record is a 1h30min ride
gentle rolling wave travelling at slow speeds between 5 km/h (when super shallow) and 20 km/h (in deep water) with 2-5 knots tidal currents behind it
Dangers
Sun: zero degrees latitude, bring barrels of sunscreen
Malaria: take tablets if you need them
Food is spicy but fairly safe
Crocodiles mostly upriver
Current Conditions
No flow data available for Seven Ghosts
Know a reliable source for flow data? Write us!
Pekanbaru Weather
Today
Tuesday

Thunderstorm

30°/23°

Thunderstorm

30°/23°