Spots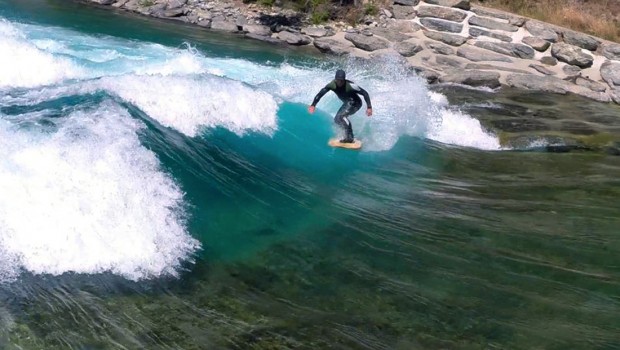 Published on January 12th, 2016 | by PhilB
Photo by Brent Screen | 
1
Hawea Wave
Hawea Wave is located at the Hawea Whitewater Park, built in late 2012 on the Hawea River at Camphill Bridge. Generally, the wave is better for kayaking but surfing is possible. There are two waves, whereas the larger one is located closer at the bridge. The Hawea River is a relatively short river that flows out of Lake Hawea into Lake Wanaka.

Spot Details
Country: New ZealandNearest town/city: WanakaRiver: Hawea RiverAddress: Camphill Bridge at Camp Hill RoadDirections: On the way to Lake Hawea from Lake WanakaLatitude: -44.65007029640177Longitude: 169.24592690141367

Wave Details
Characteristics
Not much face, much more whitewater. Very cold all year round. Wetsuit required.
Conditions
Flow controlled by floodgates so very consistent. It usually takes an hour or two after the Hawea damn release for a stable wave to form.
Tips
Best surfed at 50-60 cumecs. It starts getting a bit mushy from 60 to 80, there is a nice wave at 120 cumec.
River Gauge
Wanaka Weather Forecast
Monday
Tuesday
Wednesday

Clear

28°/19°

Clear

29°/19°

Clear

30°/20°
Spot Location
More on Hawea Wave
Calendar of up coming flow releases
http://www.centralotagowhitewater.co.nz/hawea-whitewater-park
Note that all flows and times are set at the Hawea Dam and may take 1-2 hours to show effect at the whitewater park.
You know more about Hawea Wave?