Spots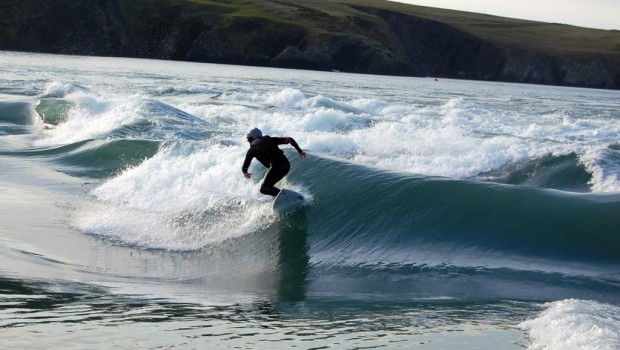 Published on July 7th, 2014 | by Max
Photo by NU.ART surfstuff | 
0
The Bitches
The Bitches is a tidal river wave between the west Welsh coastline and Ramsey Island, near St. Davids. On the flood tide, the water is funneled through the narrow channel and accelerates up to 8 knots or more. Combined with a set of rocks, the fast flowing water causes hydraulics to form a glassy river wave that sometimes barrels. The wave can get two meters high and is probably one of the glassiest and biggest river waves out there.
Spot Details
Country: WalesNearest town/city: HaverfordwestRiver: Atlantic Ocean
Address
St. Davids, Pembrokeshire, Wales, Great Britain
Directions
From St. Davids in Pembrokeshire keep heading west until you see Ramsey Island. The wave can only be reached by boat. There is a couple of agencies in and around St. Davids that can take you to the wave. Amongst others, Venture Jet is one of the companies that offer professional guidance to the wave.
GPS Coords
Latitude: 51.864455
Longitude: -5.329583
Wave Details
Characteristics
A glassy wave with some barreling sections.
Conditions
The minimum tide for this spot to work is 6,5 meters. The less wind and swell the better. The wave is surfable year round, but wind and swell conditions make April to October the ideal months to surf The Bitches.
Dangers
The area behind the wave is eroded and huge eddy lines (up to 400 meters) form whirlpools that may suck you down. It is recommended to wear a PFD and to make yourself familiar with the conditions and dangers by consulting a local agency, such as Venture Jet or others. The warm water makes the wave an attractive spot for sharks, though they seem to appear very rarely.
Tips
Get in touch with a local agency to consult on current conditions and safety advice.
River Gauge
Haverfordwest Weather Forecast
Today
Wednesday

Partly Cloudy

9°/1°

Mostly Cloudy

8°/2°
The Bitches Videos
More on The Bitches
NU.ART surfstuff
If you want to learn more about river surf trips, wave quality and safety get in touch with NU.ART surfstuff prior your trip.
Venture Jet
At the spot, touch base with Venture Jet – the guys that operate the wave trips.
Safety
Before you head out, read the detailed safety advices at the-bitches.co.uk.