Guides and Tutorials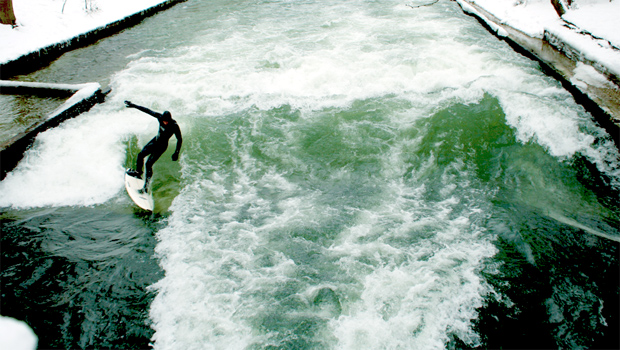 Published on July 2nd, 2013 | by Neil Egsgard
Photo by flickr.com/photos/pakitt/5274361691 | 
4
Cold & Deaf: Losing Your Hearing to Surfing
Unprotected surfing in cold water will probably make you deaf.  When your ear canal is exposed to cold water it causes the bone to grow and closes your ear canal.  The growth is irreversible and will not improve without surgery.  This bone growth is called Surfer's Ear.
Effects
Cold water in your ear canal causes irregular bony growths inside your ear called exstoses.  As the ear canal closes you begin experiencing the following symptoms:
Reduced hearing until complete loss of hearing
Water stuck in your ears
Debris stuck in your ears
Ear infections  more often
More serious ear infections
These symptoms develop slowly over years.  The blockage and symptoms only get worse over time and require surgery to fix.
Diagram of clear ear canal vs surfer's ear
Clear ear canal vs surfer's ear
Causes
Surfers ear is caused by cold water and time.  The more time you are exposed to cold water the more bone grows.  The colder the water in your ear, the faster bone grows.  River surfers who surf in below freezing temperatures are at particular risk.  If your river has ice in it you are surfing the coldest water possible, colder than most oceans, which means you will lose hearing faster.
A Japanese Study of Surfers Ear in Professional & Amateur Surfer
See pictures of surfer's ear and overview of a study on Surfer's Ear.
Treatment
The ear canal is cleared by surgery.  Typically either a small drill or chisel is used to remove the bone growths.  The drill or chisel either enters through the ear canal or the ear is cut open from behind.  After surgery, if you surf to soon you risk infections and other problems.  Typically it takes a couple of weeks to months to recover depending on the surgery and the surfer.
UCIrvine video of surgery to remove surfer's ear
Prevention
Wear ear plugs and a hood in cold water.  Wearing both ear plugs and a hood can completely stop or at least dramatically slow surfer's ear.
Example of moldable ear plugs that shape to your ear
Example of pre-shaped ear plugs
You can also get custom made ear plugs with help from an audiologist or a hear aid dispenser.
This article was written by Neil Egsgard, ARSA President.
Alberta River Surfing Association — RiverSurfing.ca/forum
Surf Anywhere Project — SurfAnywhere.ca