Spots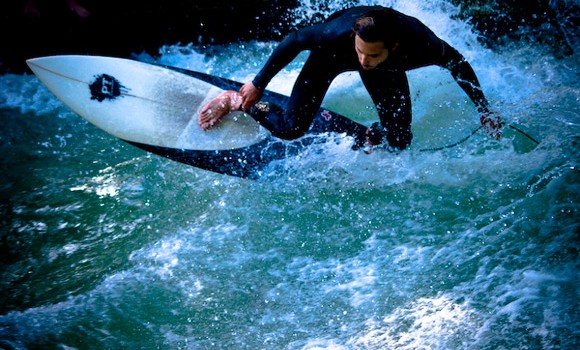 Published on March 27th, 2013 | by RB Team
Photo by designyoutrust.com | 
1
Eisbach E1
The Eisbach Wave 1 (also known as Eisbach E1) is probably the world's most famous river wave. The Eisbach – literally "ice brook" – sits in the middle of Munich at the English Garden, the largest urban park in the world. Just a few hundred meters downstream, less advanced surfers find the smaller wave E2.
Compared to her sister spot the Floßlände Wave in the burbs, the Eisbach Wave 1 is meaner, trickier and better left to more experienced surfers. While the Floßlände Wave is a summer break, the Eisbach E1 is surfed year-round. Only the winter chill and flow diversions by the city sometimes put a break on the popular wave. The Eisbach Wave in Munich has gained much popularity after the 2011 movie Keep Surfing by Björn Richie Loeb.
Spot Details
Address
English Garden, Munich, Germany
Directions
Near the crossing Prinzregentenstraße/Bruderstraße — at the south end of the park, next to the modern art museum.
River
Nearest City
Nearest Surf Shops
GPS Coords
Latitude: 48.143453
Longitude: 11.587719
Wave Details
Conditions
For skilled surfers, the Eisbach is surfable pretty much year-round.
Characteristics
Only for experienced surfers.
Dangers
Concrete baffles behind the wave can break your neck.
Fast current in combination with rocky river sides pose a threat to your board and/or head.
Tips
If you're a very experienced surfer, be nice and humble to the locals, especially on crowded sunny days or weekends.
Be prepared for a long line-up along the riverbank.
Entering the wave: throw the board in front of you and use the momentum.
If you're a beginner just forget it.
Current Conditions