Spots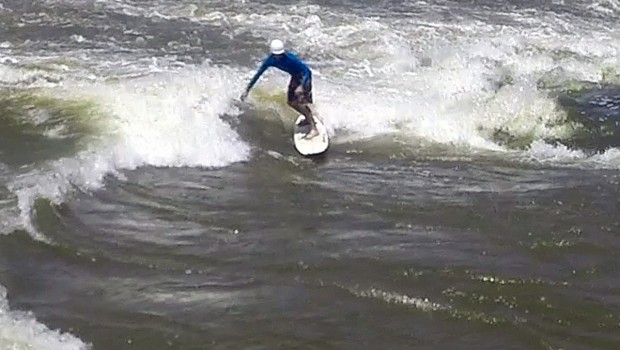 Published on July 29th, 2015 | by RB Team
Photo by Colorado Surf Supply | 
0
U2 Wave
The 2nd drop at Union is called "U2 Wave" which is a fun, fast, small little wedge that jumps up when the gauge hits over 1,200cfs and can be surfed at any level above that. There is an intimidating hole right after the wave that can churn you straight to the bottom, and spit you out 20 yards down stream, but the spot has really large eddies on both sides so there is little danger of getting ripped down the next drop. Just surf with a friend, and be safe!

Spot Details
Country: USA, North AmericaNearest town/city: Denver, CORiver: South Platte RiverAddress: Union Ave & Santa Fe in Englewood/ Littleton area ColoradoDirections: Easily accessible. Park at the parking lot at the Union chutes, and walk down to the U2 Wave. Just upriver from Hawaii 5-0 Wave.Latitude: 39.6329231Longitude: -105.0162048

Wave Details
Characteristics
Works at 1200cfs and above. Small left hand wedge with micro barrel at 1,200 – 1,500cfs. Nice wedge with a pile above 1,500cfs. Super fun wave.
Dangers
Shallow at lower flows so fall flat and in the pile. Hole after the wave can suck you down, NO LEASHES! Be a strong swimmer, and surf with a friend, or friends.
River Gauge
Denver, CO Weather Forecast
Today
Monday
Tuesday

Snow

-3°/-10°

Clear

4°/-9°

Clear

2°/-8°
Spot Location
U2 Wave Videos
Elijah Mack – Denver, Colorado River Surfing
Denver River Surfing
More on U2 Wave
Local Surfshop Colorado Surf Supply
Colorado Surf Supply is focused on furthering the development the sport of river surfing. Be sure to check out their river wave webcams in Colorado. Dan and his team show people where to find the best waves, provide the gear they need all while keeping the individuals safety in mind: www.coloradosurfsupply.com
Browse Riverbreak for Miracle Wave
Check out more on U2 Wave here on Riverbreak.
You know more about U2 Wave?