Events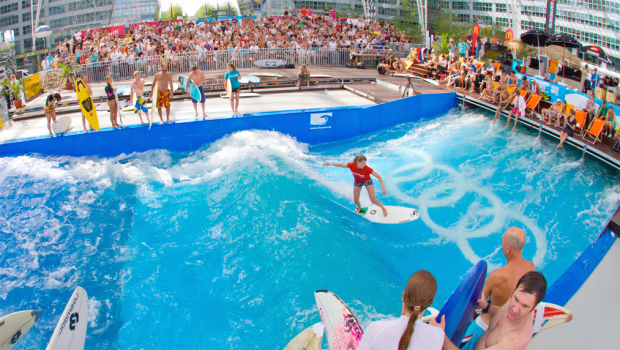 Published on May 30th, 2013 | by RB Team
Photo by GoldenRide | 
0
2013 European Championship in Stationary Wave Riding
For the 3rd time, Europe's best river surfers will be ripping the stationary wave at Munich Airport. Be there or be squared!
This year the European Championship in Stationary Wave Riding will be held from 10 to 11 August. As in the previous years, the event will take place at Munich Airport on an artificial wave — this year even bigger: 10m wide, up to 1.5m high, strong and glassy. Local heroes and international top riders will partake in the competition, showing off their talent to convince the jury. In the finals, the best surfers will take to the waves for a chance to win € 10,000 in prize money. The European Championship is the highlight of the Surf & Style 2013, running 31 July to 25 August 2013.
Top 3 in Each Category 2012
Open Men
1. Tao Schirrmacher
2. Quirin Rohleder
3. Gerry Schlegel
Open Women
1. Kathrin Gappmayr
2. Angelina Schülting
3. Stephanie Pirron
Masters Class
1. Jose Fernandes
2. Alex Schwab
3. Fritz Hollweck
More about the 2013 European Championship in Stationary Wave Riding
Check back at Airport Munich Events (site being updated) or citywave.de for upcoming details.
Follow the event on Facebook: FB Surf-Style-European-Championship.
Sign up for the competitions: citywave.de.
Complete List of Results 2012
Men
1. Tao Schirrmacher
2. Quirin Rohleder
3. Gerry Schlegel
4. Jan Vogt
5. Paul Guenther
6. Timo von Wagenhof
7. Simon Strangenfeld
8. Florian Kummer
9. Steve Ratzisberger
10. Leon von Wagenhof
11. Andi Jobst
12. Marian Loesch
13. Lukas Waning
14. Christian Egetemayr
15. William Alund
16. Martin Suter
17. Roland Hauser
18. Hajo Bucsenez
19. Lukas Brunner
20. Alex Neumann
21. Ivo Cacao
22. Ben Mueller
23. Benedek Sarkani
24. Paul Schoepplenberger
25. Mike Lingenfelser
26. Florian Fuchs
27. Simon Ondrejka
28. Markus Knoeringer
29. Manuel Stecher
30. John Phillip Koestring
31. Mario Azurza
32. Andy Bode
33. Manex Otegui Echav
34. Lukas Heigermoser
35. Florian Meineke
35. Heiner Palmen
37. Tobias Kringel
38. Kian Bayani
39. Ben Kienesberger
40. Simon Bitterlich
41. Thomas Höfter
42. Timo Specht
43. Leo Geh
44. Rouven Straub
45. Patrick Toledo
46. Michael Hammer
47. Benni Schumann
48. Tobi Grünwald
49. David Bitterlich
50. Berni Weger
50. Trutz Dahnken
50. Max Grünwald
50. Sebastian Steudtner
50. Daniel Gagliardi Paez
50. Marc Preiß
56. Heiko Pfisterer
Women
1. Kathrin Gappmayr
2. Angelina Schuelting
3. Stefanie Pirron
4. Sarah Czepluch
5. Elisa Weber
6. Natascha Teske
7. Magdalena Persona
8. Taii Schmoll
9. Laura Marie Schons
10. Sigrid Langrehr
11. Katharina Nachtigal
12. Valerie Schlieper
13. Petra Offermanns
14. Nina Gernuß
15. Kira Maiwald
16. Magdalena Ramsauer
Masters
1. Jose Fernandes
2. Alex Schwab
3. Fritz Hollweck
4. Carsten Kurmis
5. Daniel Osswald
6. Henrik Klagges
7. Bernd Gernuss
8. Rainer Litz
9. Markus Knoeringer
10. Guido Meier
11. Bozo Wecke
12. Tom Mayr
13. Falko Kryszohn
14. Berni Weger